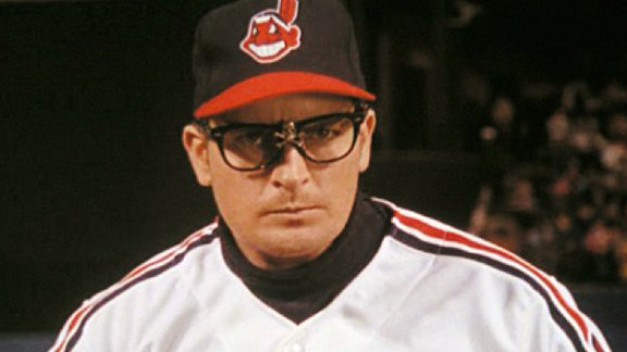 As the Charlie Sheen circus enters what seems to be its 400th interminable week, it's become painfully obvious that the actor's very public "breakdown" has been nothing more than a labored performance art piece. Calculated and increasingly dull, it's simply an extended reality show audition tape punctuated by meme-friendly bullshit cribbed from rejected Tenacious D lyrics. Warlocks and tigerblood: how very metal.
Still, it's fun to remember a time when Sheen was less an irritating attention whore, and more a closeted, pistol-packing nut case. Back in the summer of 1988, a then-22-year-old Sheen—along with heavy hitters like Wesley Snipes, Rene Russo, and late character actor James Gammon—was in town filming the endlessly quotable Major League. But while many fondly recall the film in which the shittiness of Milwaukee was used as a stand-in for the the shittiness of Cleveland, few remember the time someone ripped off Sheen's loaded .357 Magnum from his downtown hotel room. Oh, and a totally sweet Whitesnake tape.
According to the Sept. 1, 1988 edition of the Milwaukee Sentinel, Sheen's room at the Marc Plaza (now the downtown Hilton) was burglarized the previous afternoon. The culprit made off with "$1,540 in goods, including a loaded .357-caliber Magnum handgun." Adding insult to injury, the stolen goods also included "a compact disc player, two Walkman cassette players, and cassette tapes of rock bands AC-DC, U2, Whitesnake, and the Eagles." Um, winning?

One can only speculate as to why Sheen was packing such serious heat while kickin' it at the Marc, or why he thought mixing the Eagles with AC/DC and Whitesnake was even a remotely good idea. Luckily, "Sheen's possession of the $660 revolver, a stainless steel Python loaded with hollow-point bullets, appeared to be legal, police said." Good thing, lest the man known as "Wild Thing" Ricky Vaughn be sent back to the dreaded California Penal League to finish out the remainder of the '88 season.