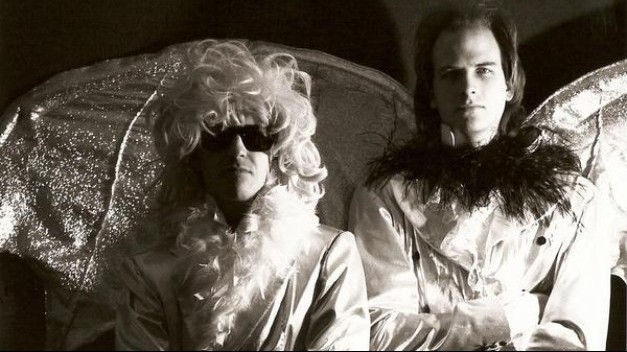 According to multiple Milwaukee media sources, Dennis Flemion—founding member of flamboyant and controversial freak-rock band The Frogs—has died. Flemion was boating with family and friends Saturday afternoon when he went for a swim and did not resurface. His body was recovered Tuesday night. Flemion was 57.
Along with his younger brother Jimmy, Dennis began gigging around Milwaukee in the early '80s under band names like Gilla Monsters and Stupid Frogs. During that time, a number of future Frogs stage gimmicks were conceived and perfected, namely Jimmy's oversized pair of bat wings, and the band's penchant for donning wigs. It wasn't until 1988, however, that the brothers finally released a self-titled album that introduced the world—or, more accurately, anyone who picked up one of the album's 1,000 copies—to The Frogs' digressive, demented, and disturbed humor.
That same year, a copy of the Flemion brothers' home recordings came to the attention of Steve Albini and Gerard Cosloy of Homestead Records (later of Matador). Cosloy offered to release the recordings in their current state, something the brothers initially balked at. When they finally relented, the resulting album, It's Only Right And Natural—which contained songs like "Hot Cock Annie" and "Dykes Are We"—would solidify The Frogs' lo-fi ethos and their cartoonish homo-erotic identity. (Neither of the Flemions were actually gay.)
Mainstream success would elude the band, however, and its follow-up album, Racially Yours, was rejected by Homestead in 1991. (The satirical, race-baiting album wouldn't be treated to a proper release until 2000.) Instead, The Frogs were probably best known for their many grunge-era celebrity admirers than for their music. Smashing Pumpkins' Billy Corgan chanced upon the Flemions in a small Wisconsin club in 1993 and immediately asked them to open for the Pumpkins. The Frogs joined Corgan and company on the Lollapalooza '94 tour, confounding audiences as a bizarre "wigged and winged" second-stage act. Corgan would go on to produce a short film entitled Meet The Frogs, produce the band's 1994 Starjob EP (under the pseudonym "Johnny Goat"), and occasionally invite both Dennis and Jimmy to sit in with the Pumpkins. The brothers also appeared on "Medellia Of The Gray Skies," the b-side of the "Tonight, Tonight" single.
Eddie Vedder and Beck were among The Frogs' other famous supporters. According to Vedder, the lyrics to "Smile" were taking directly from a note Dennis had tucked away inside Vedder's notebook. Beck, meanwhile, looked to The Frogs for the "That was a good drum break" sample in "Where It's At."
More albums followed—including 1996's excellent My Daughter The Broad and 2001's Hopscotch Lollipop Sunday Surprise—though The Frogs never seemed to capitalize on their brushes with '90s success. Even so, the Flemions remained busy: On Saturday—the day he disappeared—Dennis was asking various friends on Twitter to spread the word about two new full-length Frogs albums, Squirrel Bunny Juniper Deluxe and Count Yer Blessingz. In a career filled with so much in-your-face provocation and purposeful bad taste, it seems fitting that Flemion should go out on such a gentle note: reaching out to friends and promoting a band that had continually come so close.
(On a personal note, one of my now-defunct band's first Milwaukee gigs was opening for The Frogs at the Cactus Club in the late '90s. I remember both Dennis and Jimmy as amiable—if somewhat prickly—fellows. I also remember that when it came time to divy up the cash at the end of the night, The Frogs stiffed us. Even then, it felt like an honor.)