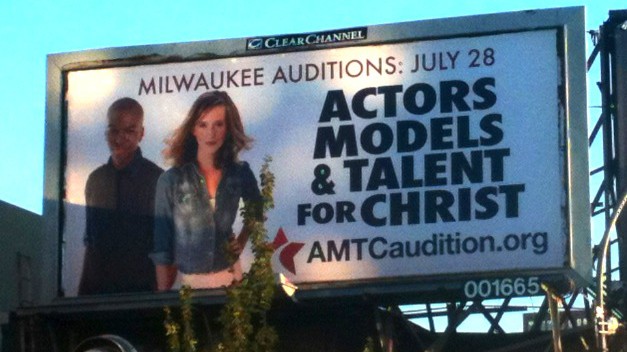 If the glut of prime time judging shows is any indication, America is teeming with young, undiscovered, and desperate-for-attention talent. America's Got Talent searches high and lo for daring entertainers, American Idol and The Voice look to crown the next great singing superstars, and American Ninja Warrior exists. But what if future Kelly Clarksons, Carrie Underwoods, and, um, Lee DeWyzes can't cut it at a highfalutin Idol tryout? What if, instead of dedicating their lives to impressing Randy Jackson and Ryan Seacrest, those aspiring stars would rather dedicate their lives to the big, imaginary man in the sky, and maybe get a Law & Order walk-on in the process?
Enter Actors, Models & Talent for Christ—or AMTC if you're nasty. According to its website, the Christian-based talent organization is "a ministry, a mission, and a movement that provides aspiring performers with professional direction, industry introductions, and spiritual encouragement so they may shine for Christ in the entertainment industry." And in case you haven't noticed, there are currently dozens of AMTC billboards littering the Milwaukee landscape, spreading the good news of a July 28 audition at the Frontier Airlines Center. Before that bright, glorious, and Jesus-approved day arrives, we summon our inner Doubting Thomases and examine five things that make AMTC both hilarious and terrifying.
The name change
Here's a fun fact: AMTC has been around for 30 years, but it's faith-friendly "Christ" angle wasn't cooked up until 2010. According to the AMTC-owned AMTCScam.com (way to nip that domain name in the bud!), CEO Carey Lewis had a late-in-life religious awakening in 2007 that led to a complete company rebranding:
In 2007 Carey Lewis, AMTC's CEO, took a demotion. She became a committed Christian at the age of 51. She gave God the glory, the job title, and the company. […] Not only was Carey transformed, but God transformed the mission of the company, even inspiring a legal name change on January 1, 2010. Actors, Models & Talent Competition became Actors, Models & Talent for Christ.
AMTC goes on to address the accusation that it's "just using the Name of Christ to make money" by noting its "transformation" was "risky," and that the group "made a lot more money in the 25 years before turning Christian." Whether AMTC's born-again hook is truly a money-loser or merely a cynical cash grab pandering to the loaves-and-fishes crowd is anyone's guess—the company is a non-profit 501c3 ministry, after all.
The scout
Milwaukee won't be the only city blessed with an AMTC audition on the 28th: New York/New Jersey, Dallas, and Atlanta will all play host to the holy talent search. So who among AMTC's Christian soldiers will be sifting through Milwaukee's pool of wannabe Kirk Camerons? Jaco Booyens, that's who. Here's Booyens' bio, which gives new meaning to "burying the lede" and "played for the Philadelphia Eagles":
Jaco Booyens was a professional rugby player in South Africa and a professional football player in the U.S. with the Philadelphia Eagles, and later in Canada. Jaco has also worked as a long-term print and runway model in international campaigns, as well as an actor appearing in several motion pictures. […] Jaco is a prophetic speaker and the President of After Eden Pictures with the mission to transform culture through uplifting entertainment.
First thing's first: there's no record of Booyens playing for the Philadelphia Eagles. Nada. Seriously, you could find more instances of the word "Doritos" in the Bible than anything on Booyens' time with Philly. Yes, he signed to the Toronto Argonauts as a punter/kicker in 2006, but his only link to the NFL seems to be that he worked out with the Buccaneers and the Rams (not the Eagles) in the early '00s. That's like showing up on the JumboTron for five seconds and claiming you pitched for the Boston Red Sox.
And then there's this: "Jaco is a prophetic speaker…" We're a little hazy on the whole "prophetic speaker" thing, though we're guessing if Booyens' oratory skills are anything like his resume, his pep talks will be less The Ten Commandments and more Jonah: A VeggieTales Movie.
The audition process
Anyone who has suffered through an audition will tell you it's a nerve-wracking experience at best, and a soul-crushing nightmare at worst. So what would happen if all the anxiety inherent in the audition process was left to boil by sitting through a pre-game "information session"? Perhaps tipping its hand to what it's really interested in, AMTC gives starry-eyed hopefuls a taste of what they're in for during its auditions:
The AMTC audition is more than an audition. It begins with an information session: It's an insider's look at the entertainment industry and what it takes to succeed. Most importantly, you'll find out about God's movement to launch models, actors, singers, and dancers as role models and stars. After the information session, individual auditions will begin. The audition process usually takes about 2-4 hours, depending on your arrival and the # who are auditioning during your time period.
Two to four hours? Does it really take that long to stand in front of a former rugby star and recite AMTC audition scripts like "If you're going cheesy, do it right with Lean Cuisine Casual Cuisine"?
The scam?
The word "scam" hangs heavy on AMTC—so much so that it snatched up the aforementioned AMTCScam.com. So is the blessed talent search a scam or not? It is only if you're unfamiliar with how nearly all talent searches—Christian or otherwise—make their dough. In AMTC's case, the initial audition is free, and the cream of the crop are then "invited" to attend a biannual "talent convention" in Orlando called SHINE—which, wouldn't you know it, costs money! And not just a few bucks for the donation basket, either: the six-day SHINE event runs an astounding $3,895-$4,995—and that doesn't include hotel, travel, or meals. Will you be deemed talented enough to pay AMTC $5,000? Probably!
So what does nearly five grand get you? The chance to "network with performers from all over the world," the opportunity to perform in up to three "talent showcases" (additional showcases cost additional money), and access to a third step in the AMTC process, something called "The Bridge Training Program." Think of the whole thing like the Trinity—or like Scientology's "OT levels," only crazier.
The "success stories"
AMTC goes to great lengths to explain that despite its holy mission to install Christian sleeper cells in the festering Gomorrah that is Hollywood, it does not, in fact, promise instant stardom. ("AMTC does not guarantee success—that is up to God.") It needn't bother: the organization's "Top 100 Success Stories" are rather modest. Bit parts on True Blood and Two And A Half Men seem to be the order of the day, along with background extra work on CSI shows, and, er, "Josh Grobin's [sic] love interest in his 'Hidden Away' music video." So don't despair, Tinseltown hopefuls: all you need to do is sit through a trumped-up Christian recruitment seminar, fork over $5,000 when you're invariably "invited" to the real audition, and bide your time until you score sweet, sweet gigs like Josh Groban videos. Amen.