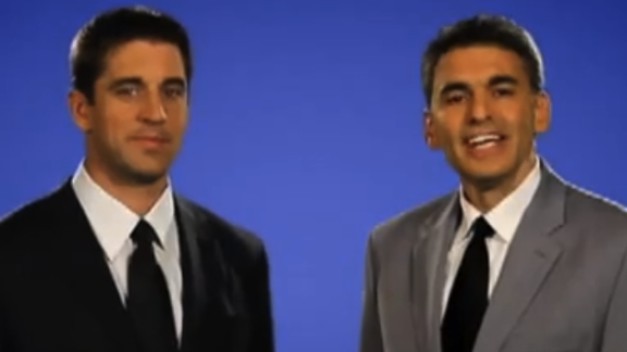 If you've ever flipped on a TV or glanced at the spine of an errant Yellow Pages, you've probably encountered the grinning visage of David Gruber. The personal injury lawyer with a knack for snazzy suits and ingratiating commercials is something of a minor celebrity here in Milwaukee, and is best known as the "One Call… That's All" guy. Been hurt in a car wreck? Desperately need the money that you deserve? Gruber has your back, and/or back brace.
So perhaps it was only a matter of time before Milwaukee's answer to Breaking Bad's Saul Goodman teamed up with another area superstar. But we were more than a little surprised when we discovered who that superstar turned out to be: Green Bay Packers quarterback Aaron Rodgers. Yes, the man who took home a Super Bowl XLV ring can now be seen with the man who took home a 2010 Shepherd Express Readers' Choice Award for Best Personal Injury Lawyer.
In the first of two television commercials, Gruber rings in the long-awaited summer by giving props to "fun, festivals, music, and of course, great Wisconsin traditions like beer and brats." Looking appropriately solemn, Rodgers then rains on Gruber's parade by imploring viewers not to drink and drive. Sound advice, but since when does someone of Rodgers' caliber hang out with a dude whose phone number is 877-276-HURT?
Less serious and more delightful is the second ad, which finds A-Rod and D-Grubs mulling over the finer points of auto insurance. "Hi, I'm Aaron Rodgers," begins the man who completed 24 of 39 passes for 304 yards in the goddamn Super Bowl. "David Gruber and I have been discussing what protections auto insurance provides if you're in an accident." Really? Is that what you two have been discussing? Gruber, meanwhile, seems pleased as punch. You can practically smell his self-satisfaction through the screen. (Dig Rodgers' delivery of "There are four types of coverage, right David?")
We can only speculate as to what favors Gruber called in to nab Rodgers for these commercials, or just how listless and frightfully available the ongoing NFL lockout has rendered the Super Bowl MVP. But we do know one thing: There hasn't been a team this explosive since Rodgers went to Jordy Nelson for 140 yards, or since William Shatner went to Michael Hupy for 140 extra bucks.