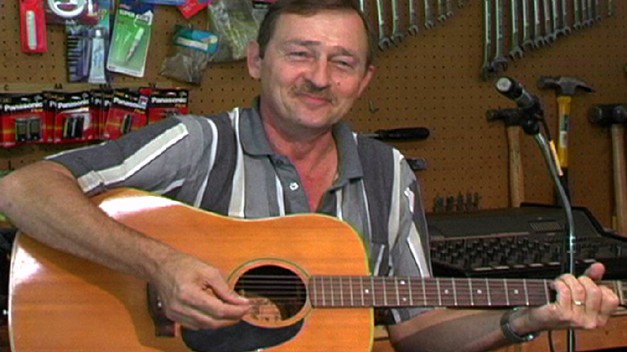 Country singer Larry Pierce describes himself matter-of-factly: "I'm 53 years old, work in a factory, live in a small Midwest town. Play music on the weekends, have all my life—but my music took a funny turn." That funny turn is the subject of Joe Pickett and Nick Prueher's Dirty Country, a whip-smart and affectionate look at the disreputable world of "dirty music." (Pickett, a recent Milwaukee transplant, will host a DVD party Thursday at The Garage.) With 14 albums and more than 120 songs to his name, Pierce is seen as something of a legend in the field, even if his records are carried almost exclusively in truck stops. Affable and endearingly smutty, Pierce nonetheless has an obvious knack for songcraft. Tunes like "Cunnilingus" and "She Makes My Peter Stand Up" (written for his wife of 24 years) show real talent, even if the lyrics make classic naughty novelty hits like "My Ding-a Ling" sound like Taylor Swift's "White Horse."
Traveling to Middletown, Ind., Pickett and Prueher (who also tour as curators of the Found Footage Festival) drop in on Pierce as he records new tracks in his garage, plays live shows for friends and family (again in his garage), and spends the rest of his time "drinking whiskey and playing washers." Interspersed throughout are short profiles of other dirty acts—including John "Dr. Dirty" Valby, foul-mouthed rap pioneer Blowfly, and Doug Clark's Hot Nuts—which give some context for the X-rated subgenre Pierce occupies. The film picks up a degree of narrative steam with the introduction of hard-rock band -itis, who pledge devotion to Pierce as their filthy music idol. After tracking their elusive mentor down, the band members strike up an easy friendship and conspire to back Pierce at a proper live concert.
Following in the tradition of other "outsider" music docs like The Devil And Daniel Johnston and Wesley Willis: The Daddy Of Rock 'n' Roll, Dirty Country successfully explores the gray area of outsider art without coming off as mean-spirited or condescending. At 70 minutes, it feels a bit slight: Pierce's employment and financial troubles are touched on but never fully explored, and the climax—shot two years after the bulk of the film—seems like an afterthought. Nevertheless, the film succeeds as a warm, funny portrait of a peculiar talent, as well as a testament to the value of giving artists their due, even one who counts a song called "Porking You Is Always On My Mind" among his greatest hits.