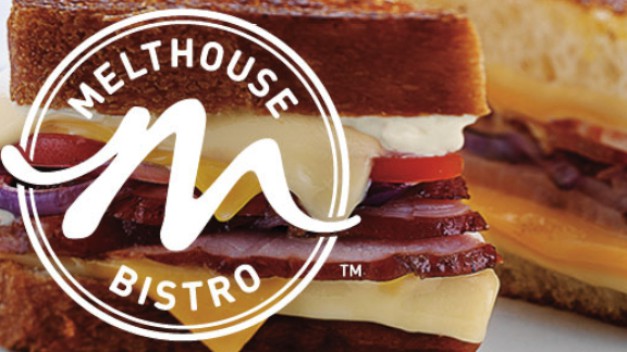 In a city where so many mundane goods and services—hamburgers, haircuts, brunch—have been given an upscale makeover, isn't it about time that grilled cheese sandwiches got their turn? Melthouse Bistro is Milwaukee's first foray into the world of gourmet grilled cheese, a strange and gooey land where up is down, black is white, and sandwiches are accompanied by wine and beer suggestions. The A.V. Club paid several visits to the new East Side establishment, and came away impressed.
The space: Clean, sparse, and modern. Located in the revamped Kenilworth apartment complex, Melthouse shares the building's sleek, if somewhat impersonal, vibe. It isn't a chain restaurant, though its interior is reminiscent of fellow fancy comfort-food spots like Noodles & Company. The surrounding bars and student housing would seem to make Melthouse an ideal location for the after-bar set, but it's anything but a late-night dive. (Hours are Sunday-Wednesday, 11 a.m.-10 p.m.; Thursday-Saturday, 11 a.m.-11 p.m.) Just to prove it, the restaurant also carries beer and wine, and offers suggestions for each of its sandwiches. Classy!
The service: Admirable. A hostess helped us navigate our way through Melthouse's lengthy menu, and despite a busy lunchtime crowd, our food arrived after only a short wait. The hostess made several return visits throughout our meal, whisking away plates and bowls mere seconds after they were bereft of melted cheese chunks.
The A.V. Club's food: On our first visit, we chose Melthouse's most basic offering, The Cheesehead ($6.95). The combination of Wisconsin provolone, sharp cheddar, and Muenster on whole-wheat bread was as tasty as expected, but a healthy helping of pesto bumped the sandwich up from good to great. The Pilgrim ($7.95) was similarly delicious, combining Wisconsin Gouda, smoked turkey breast, and spinach on honey-wheat bread. A side order of coleslaw was fresh and crisp, and a far cry from the too-creamy slaws common at local fish fries.
Our second visit was even better, and featured one of Melthouse's "premium" offerings, The Southern Belle ($8.95). Less a grilled cheese sandwich than a full-fledged burger, the combination of Wisconsin Brie and a thin Angus beef patty drizzled in apple butter was terrific, and definitely worth the somewhat hefty price tag. The only minor letdown was the small-ish portions, which were about the size of the Wonder Bread/Kraft concoctions you'd whip up at home.
The verdict: If you can make peace with the idea of paying nearly $10 for gussied-up grilled cheese, Melthouse Bistro is a surprisingly tasty and satisfying experience. Delicious sandwiches, solid sides, and stellar service make for a perfect lunchtime treat.