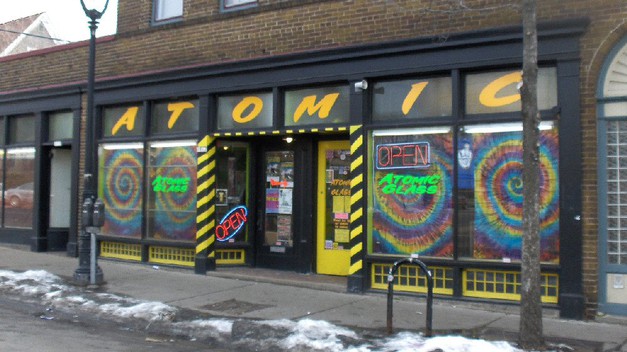 One year ago this week, Atomic Records—Milwaukee's iconic, legendary independent record store—closed its doors forever, putting an end to nearly 25 years of service. There was much hand-wringing during Atomic's final days, with former patrons bemoaning both the loss of the East Side institution and the sorry state of indie music stores in general. A stellar farewell show at the Miramar proved celebratory and bittersweet. Tributes were written, tears were shed. On March 15, 2009, Atomic Records was no more.
But then something strange happened: Atomic lived on. Sort of. Less than three months later, a new business called Atomic Glass quietly set up shop in the famed Locust Street storefront. One part head shop, one part glass-blowing studio, this bizarre Atomic boasted a curiously similar name, as well as a selection of "Milwaukee's sickest glass pipes." Clearly irritated, former Atomic Records owner Rich Menning assured former patrons that the two businesses had nothing to do with each other. And even though Atomic Glass owner David Kelly claimed his decision to keep the Atomic name was intended as an honor, many Milwaukeeans cried foul. The very idea of a head shop occupying the legendary location seemed akin to turning New York's recently closed Tavern On The Green into an all-night Fuddruckers.
So yeah, it sucks that Atomic Records is gone. It really, really sucks. But is Atomic Glass such a terrible place? Does it really tarnish a decades-long legacy? Are its glass pipes truly "sick," or just somewhat awesome? Realizing all this glass won't blow itself, The A.V. Club investigates.
High quality, low price
Upon entering Atomic Glass for the first time, you're struck by a powerful feeling of disorientation. The place is oddly quiet and empty; all traces of Atomic Records are wiped clean. Gone are the overstuffed CD racks, the cluttered front counter, the posters, photographs, and musical ephemera of the last 25 years. A partition now splits the room in two, and the bare, newly painted neon-green walls give you some idea of what it would be like to live inside a brightly lit Mountain Dew can.
But while it may lack the warmth and communal vibe of its predecessor, Atomic Glass succeeds as a distinctive, low-key, and even tasteful head shop. Long glass cases now circle the showroom floor, containing everything from lighters and ashtrays to "bat boxes" and decorative skull candles. The variety and selection of hand blown pipes is top-notch. Quality is high, and prices are reasonable—simple pipes and tubes start around $10, though the more intricate pieces can reach $500. Also of note are the many storage containers cleverly disguised as everyday household items: soda cans, DD batteries, pens, flashlights, bottles of Comet and Ajax. It can all be a bit overwhelming, especially when you realize the window ledge that once served as a stage for so many incredible in-store performances by people like Frank Black, Will Oldham, and Jay Reatard now houses a case full of fake Pringles cans.
High Fidelity
Historically, independent record stores have never been known for their friendly employees. Atomic Records did better than most by having a staff that never came off as condescending or rude. Happily, Atomic Glass continues this tradition. The employees are helpful and upbeat, and more than willing to answer any questions you may have about vaporizers or "super headies." Like Atomic Records before it, the glass-loving business stocks plenty of local alt-newspapers near the window and posts show flyers on the door. In fact, the walls of Atomic Glass are covered with flyers: "Smile, you're on camera," "Please refrain from stupidity," and "These are called TUBES" are just a few examples of its signage. "Any reference to illegal activity is prohibited" hangs ominously above the cash register, no doubt to discourage shoppers from disseminating the details of a football game without the express written consent of the NFL.
Atomic Glass' most unique asset, however, is its glass-blowing studio. Classes are available to the public, and cover everything from basic flame-working to advanced lathe work. Prices range between $150 and $450; the cost of all materials and tools is included. And since legal tobacco smoking enthusiasts are a notoriously sentimental bunch, Atomic Glass also offers affordable repair services for any damaged pipes or tubes.
Hello, Goodbye
In the end, the sad fact remains that Atomic Records is gone forever—have we mentioned how much that sucks? But for nearly 25 years, it did exist, it did thrive, and it did succeed. Though the name has changed hands, the legacy of Atomic remains untouched. A full year later, its ghost still proves hard to shake.