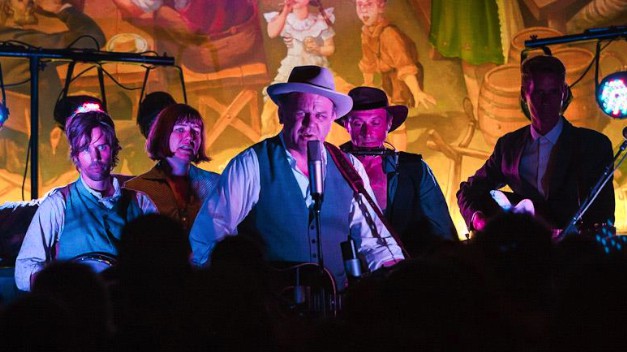 "Stunt casting" refers to casting a high-profile actor or actress in a relatively small but crucial role. Think Marlon Brando as Jor-El in Richard Donner's original Superman, or Kevin Spacey as John Doe in Seven. Last month, the Pabst Theater Organization pulled off its own bit of stunt casting by tapping actor John C. Reilly to play a pair of intimate shows with his bluegrass/country/folk band in the Historic Miller Caves, 60 feet below the Miller Brewing Company. Originally used as storage before the advent of refrigeration, the roughly 150-year-old caves were repurposed as a museum in the early 1950s, and were once again renovated in 2008. Sunday's shows—at 6 p.m. and 9:30 p.m—marked a new chapter for the gloomy but gorgeous subterranean space, with Reilly and friends serving as its first-ever musical performers. But the booking posed an interesting question: Would Reilly and his cult cache (the man is Dr. Steve Brule, after all) dominate the evening, or would the location steal the show? Happily, the early show wound up being a perfect pairing of left-field performer and equally left-field (and underground) venue.
Following a charming set from banjo-pickin' opener Andru Bemis (as well as a vaguely creepy introduction to the Caves via a hologram-esque projection of beer baron Frederick Miller), Reilly and his band pushed their way through the crowd and onto a small, cluttered stage. Flanked by singer/guitarist Tom Brosseau and "effervescent tree fairy" Becky Stark, Reilly kicked off an alternately lively and hushed set of country, folk, and bluegrass standards, touching on everything from Woody Guthrie and George Jones to The Carter Family. The Irish Ballad "The Old Triangle" started things off on a winning note, and was quickly followed by the Jimmie Rodgers classic "Mule Skinner Blues." "We're busting the Cave's cherry tonight," Reilly said before he and his friends ("not showbiz friends," he noted, "real friends") worked their way through the suddenly apropos Carter Family song "Single Girl, Married Girl."
Musically, the Walk Hard actor impressed: His voice was rich and full of character, and he harmonized seamlessly with his group on songs like "Heartaches By The Number" and "Ain't No Grave" (a song about "the impermanence of death…despite what you've heard.") Reilly and Stark's easy-going chemistry and rapport were charming, and the duo's take on tender country standards like "The Wayward Wind" and "Making Plans" were two clear highlights of the group's well-curated set. Reilly was undoubtedly the draw of the night, and while his goofy charisma and modest musical chops were critical to the show's success, he served less as frontman and more as advocate and utility player for his accomplished band. Stark and Brosseau, in particular, were a pleasure to listen to, and time was even given over to an original song from banjo player Willie Watson. Reilly, meanwhile, was frequently hilarious—he gave a Father's Day-inspired shout-out to Miller, "the father of thousands of broken homes"— but he was less "on" than, say, Steve Martin during shows with his bluegrass band.
Reilly and company wrapped up their inaugural set on a ridiculously high note, blasting through "Rock Island Line" and ending with "Blues Stay Away From Me." The pared-down crowd (only 100 people were allowed into each show) responded with a heartfelt "thank you" and a thunderous wave of applause—a nice contrast to the cool, underground space they inhabited. Whether or not the Miller Caves remain a viable venue for live music remains to be seen (it should be noted that the sound was terrific), but for one night, at least, they served as the setting for one of the most unique, memorable, and straight-up enjoyable shows in recent memory. If the Pabst Organization can continue to pull off unlikely concerts like this, and an actor-turned-musician can play old-timey music in a cave on a Sunday night, anything's possible, Milwaukee.