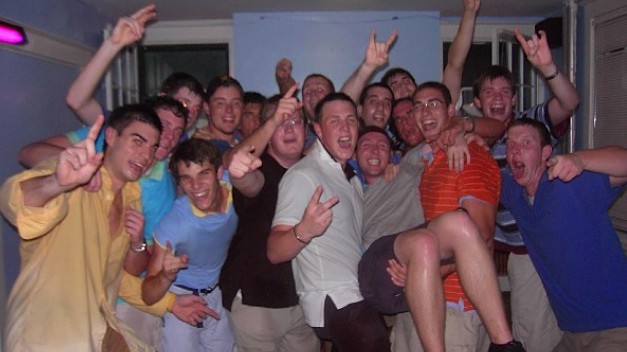 Milwaukee loves to be recognized. Maybe it's due to the city's many years spent being perceived as an anonymous Midwest backwater, but the last half-decade or so has seen the entire 414 area code going bananas every time the Brew City shows up on an online list. Whether it's "Best river towns in America" or "Best cities for safe trick-or-treating, monogamous women, and sweatpants," nothing gets our civic-pride juices flowing quite like the validation of others. So it should come as no surprise that Monday's news of Milwaukee being named one of "America's Top ArtPlaces" sent the local social media circles into a frenzy. Yes, someone likes us. They really like us! Again!
As reported by Mary Louise Schumacher of the Journal Sentinel, ArtPlace—a "public-private coalition of major foundations and the National Endowment for the Arts"—included Milwaukee on its list of cities that successfully combine art, independent businesses, and a "walkable lifestyle" to create much sought-after "vibrant" neighborhoods. Joining Milwaukee were such heavy hitters as Brooklyn, Los Angeles, New York, and Portland. So what was it about Milwaukee—or, more specifically, "East Town and a portion of the Lower East Side"—that had ArtPlace all hot and bothered? Here are a few things singled out in the group's report (opens in a PDF):
• Alterra
• Cubanitas
• Water Street Brewery
• Bastille Days
• Pabst Theater
• Milwaukee Film Festival
• Condos
• ART Milwaukee
The Pabst Theater? Hell yes. Alterra? You better believe it. The Milwaukee Film Festival? YOU'RE DAMN RIGHT. Cubanitas and condos? Okay. But a few exceptions aside, it seems the one thing missing from this list of the artiest art our ArtPlace-minted art-topia has to offer is, well, art.
Maybe it's because lists like these are a bit misleading. Take one look at ArtPlace's full report—hell, take one look at ArtPlace's name—and you'll quickly realize that it has less to do with art than it does with "placemaking," a barf-worthy buzzword that roughly translates to "making a city seem 'cool' and 'vibrant.'" (A less generous translation would be "getting well-funded organizations to stand on the shoulders of creative people in order to tout a city as 'cool' and 'vibrant.'") You won't find the names of any actual artists in these lists—no visual artists, no musical artists, no independent restaurant owners—but you will find the names of people and organizations whose job it is to talk about those artists. And that's a shame. Too often well-heeled arts groups are given the lion's share of press, while the actual artists continue to toil along semi-anonymously at their service industry day jobs. To put it in music biz terms, it's like worshipping at the altar of Spotify, Pandora, and iTunes, while at the same time sticking it (however unintentionally) to the hardworking bands and artists whose music makes those services possible.
But maybe I'm barking up the wrong tree. ArtPlace is clearly more interested in the "place" part of its name, and that's fine. The Milwaukee institutions and neighborhoods that merit a mention in its list certainly make this city livable—and, yes, "vibrant." But why has the word "art" become so interchangeable with "hip city with cool places to eat"? In my mind, this not only confuses the issue, it devalues art itself. It shifts the focus away from actual artists and relegates them to uncredited supporting roles in a City Hall-funded quest to make the city more appealing to young professionals.
This all ties into the age-old battle of art vs. the idea of art. In a must-read, year-end state-of-Milwaukee's-art-scene piece, Mary Louise Schumacher hits upon this problem perfectly:
So, what does it mean that we're seeing the rise of organizations such as Art Milwaukee and the Creative Alliance, with support from City Hall and organizations such as the Greater Milwaukee Committee, while artists and organizations of proven artistic merit such as Alverno Presents and Present Music say they are seeing less and less funding by the year?

Is Milwaukee investing in the aura of art rather than actual art? Are we investing in parties, marketing and studies in lieu of art? Are we creating an art bureaucracy?
The phrase "aura of art" sums it up nicely, and the fact that an upcoming ART Milwaukee event is titled "The Aura of Art" represents either the height of irony or the height of adorable cluelessness.
Don't get me wrong: I'm not grousing about this list. Not at all. Everyone and everything mentioned in it deserves praise, and our city would be much, much poorer without them. I'm also not asking ArtPlace—or any other organization that showers our city with love—to profile every single artist, band, and restaurant in town. That's not their job. But it's our job—and, quite literally, my job—to look past the hype, to look past the parties thrown in local art's name, and to actually support local artists. We can bask in the glow—the aura, if you will—of art for only so long before the party ends.
(What's the fastest, easiest way to support artists? Glad you asked. Head out for the upcoming winter Gallery Night and Day Jan. 18-19, skip the parties and drunk-buses, and buy some art. Actually, a few drinks wouldn't hurt, since alcohol and parting ways with $100 often go hand in hand.)
(One more: Look for a brief shot of Feeding Frenzy—a low-budget horror film from Milwaukee's Red Letter Media—at the 1:20 mark of this Andrew W.K. video. And then buy Feeding Frenzy on DVD. Art!)