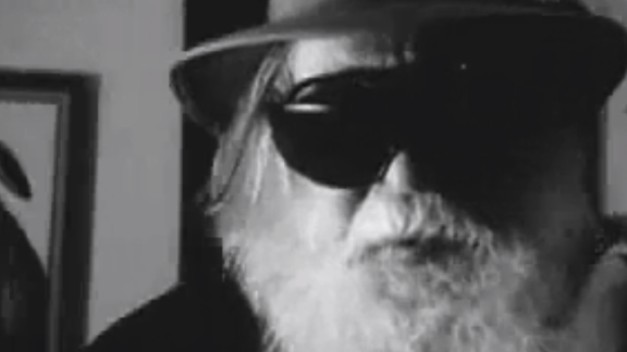 Various friends and acquaintances of his are reporting that Bob Watt, one of Milwaukee's most unique and controversial characters, has died. The poet, artist, rabble-rouser, and self-styled "dirty old man" died Monday afternoon of apparent heart failure. He was 86.
Born in 1925 in rural Manitowoc County, Watt was one of nine children. Along with his twin brother, Raymond, he was drafted into World War II and stationed in Japan, an experience he later described as "wild." It wouldn't be the last "wild" experience for Watt, who moved to Milwaukee in 1951 and slowly established himself as a counterculture poet and outsider artist. His kitschy, Native American-obsessed art towed the line between "so bad it's good" and just plain bad, as did his poetry. An excerpt from a poem entitled "Heavy Crotch Pull"—contained in the 1972 anthology Brewing: 20 Milwaukee Poets—was typical of Watt's M.O.:
Clasp hands & arms
with a girl,
place your foot
on her crotch
and pull. She's a pretty bird.

Either the crotch opens
or holds, it doesn't
matter which happens.

The crotch is not as
Invincible as it looks.
It's not easy to rip
one to shreds
with one heavy crotch pull,
that's sure!
Despite his crude style and even cruder subject matter, Watt once held the title of poet-in-residence at the University of Wisconsin-Milwaukee. He also ran his own extermination company, Rid-O-Pest, for more than 30 years.
But beyond poetry and pest control, Watt was best known for his bizarre stunts and decidedly smutty persona (not to mention his infamously cluttered apartment where he frequently held court). He ran for Milwaukee Mayor in 2000, announcing his candidacy, of course, in front of the Wisconsin Avenue Hooters (now Potbelly Sandwich Shop). More recently, a minor controversy erupted in the local art world over Watt's appearance at the 2008 "Leo Feldman Presents" Christmas show, where he dressed as Santa Claus and posed for pictures with nude female models. Watt's penchant for seeking out nude models in the classified sections of local alt-weeklies was another one of his defining traits, as well as an easy target for his detractors. Never mind that the models were (usually) paid for their time.
Watt leaves behind a thorny but colorful legacy, as well as friends and loved ones to make sense of it all. In an introduction to his poems in Brewing, he sums up his life's work with remarkable prescience:
"We need more ordinary Indians, some untalented people functioning. I feel I might be able to talk for the dull, the backward, the non-dandy, in short the bad poet. I ask equal time on your podium that you have now reserved for your favorite big stars."
(Thanks to John Shimon and Julie Lindemann for their invaluable 2002 profile of Watt, as well as this NSFW film.)