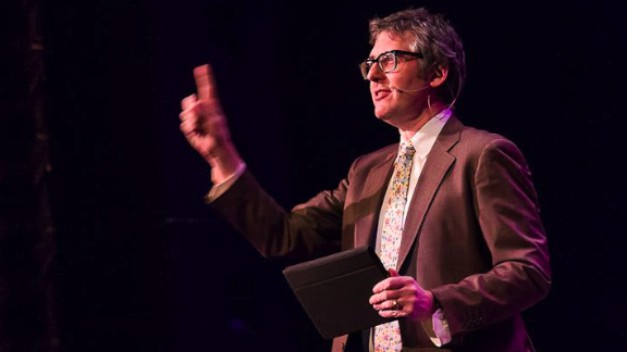 It's easy to take what Ira Glass does for granted. With a simple turn of a radio dial or the sync of a podcast, Glass and his beloved This American Life are instantly piped into listeners' ears each and every week. The celebrated radio program has long served as NPR comfort food by sticking to its basic premise of—repeat after us—choosing a theme and bringing you a variety of stories on that theme. But if there was one takeaway from Glass' sold-out engagement at the Pabst Theater Saturday night, it was that his show's tried-and-true formula is anything but easy. Less a one-man show than a breezy and endlessly fascinating crash course in storytelling, Reinventing Radio: An Evening With Ira Glass successfully schooled Milwaukee in This American Life 101.
Walking out to a dark stage and only barely illuminated by his trusty iPad ("The first thing you need to know is that this is radio"), Glass quickly set a chatty, self-effacing, and digressive tone. He sympathized with the audience's possible disconnect of seeing and hearing him at the same time, and he took a few shots at Wisconsin's eternally beleaguered governor. "I might slip in some of my pro-Scott Walker propaganda tonight," Glass joked. "Or did I misread this crowd?"
Following a cutting comparison of the informal TAL reportage with the bombastic approach of the mainstream media (Glass likened the latter to a "stupid person trying to sound smart and serious"), the host began the main thrust of his show. His informal radio workshop touched on subjects like the power of narrative motion, the importance of explicitly naming a theme, and the idea of using "brute force to get to a new idea."
With the help of his iPad, Glass punctuated his primer with audio clips from TAL. A hilarious bit about a disgruntled veteran dumping his deceased wife's ashes in a parking lot served as an unexpected lesson in fact-checking, while Mike Daisey's recent report on poor working conditions in Apple factories was used to illustrate the game-changing power of compelling storytelling. All throughout, Glass peppered his talk with unexpected asides and anecdotes, including an obligatory "Milwaukee sure likes to drink!" shout-out.
The older-skewing and exceedingly polite crowd was a frequent source of frustration for Glass. He joked more than once that the first few rows seemed unaware of who he was, and that the back of the room was where his real fans resided. The audience also provided Glass with his sole stumble of the night. A concluding section on Wisconsin's divisive political climate ("It's like you're in the middle of a war!" Glass exclaimed) was clearly intended to rally the crowd, ending with a sound bite from a frustrated legislator: "What happened to the Wisconsin we used to know?"
But instead of bursting into teary-eyed applause, the crowd sat in puzzled silence. At a loss, Glass hesitatingly continued with what was likely his traditional closing material, the storytelling lessons gleaned from One Thousand And One Arabian Nights. It was a fine capper, but the wind had clearly left Glass' sails. Perhaps he truly had "misread" his crowd, or, more likely, it was too much too soon. Stuck inside the relentless forward motion of current political events, the audience seemed more shell-shocked than energized. For Wisconsin, a satisfying, TAL-style resolution is still a long way off.