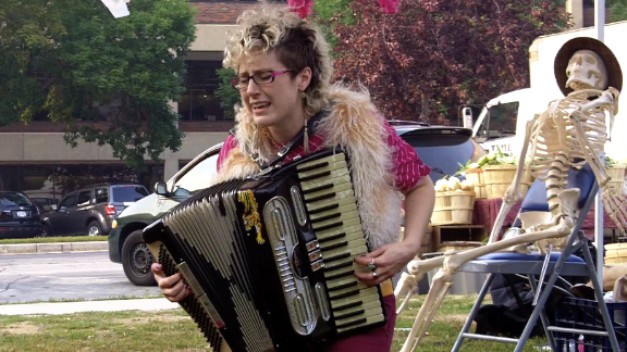 Leave it to Pezzettino's Margaret Stutt to stage an impromptu outdoor concert on the day Milwaukee was thick with the smell of a Minnesota wild fire. It was a coincidence, of course, but the campfire air and hazy atmosphere lent a strange aura to an already strange event. Pitched as more of a "happening" than a concert, Stutt's show was one part performance art and one part last-minute experiment. And though the eventual crowd never topped a dozen people, there's something to be said for whipping up an event—no matter how small—in less than 24 hours.
The show took place in the afternoon gloom of Cathedral Square, amongst a dwindling farmer's market and a few lonely food trucks. Under a "fringe box"—a.k.a. a white party tent decked out with white streamers—Stutt had arranged a skeleton, an electric typewriter, and a few other sundry items. As promised, she arrived at exactly 5:34 p.m., accordion in tow. After handing each member of the crowd a red vest, a bottle of bubbles, a Blow Pop, and a small sheet of bubble wrap, she began singing a cappella while bouncing a tennis ball on a racket. Joining her with a smattering of improvised snare drum beats was artist Mike Brenner, someone who knows a thing or two about left-field, attention-grabbing events.
After a quick conga line and some more tennis racket action, Stutt got down to the business of actually playing some songs. She only played two—both new—but they handily demonstrated both her flair for songwriting and her unexpected accordion prowess. Far from a giggly lark, the performance was surprisingly emotional and desperate, as if the songstress were pouring everything she had into the oddball show. Indeed, it was often hard to tell whether the event was simply a free concert, or the beginnings of a nervous breakdown.
The theme of the afternoon was ostensibly "fringe"—fringe art, fringe artists—but the takeaway lesson was the idea of "work." Stutt knows better than most the value of art for art's sake, and the joy of creating for the sake of creation. It's always easy to write off certain performance art events as precious and quirky—and Stutt's "happening" certainly embodied those elements—but there's something undoubtedly admirable about working hard to bring a goofball idea into the world. Nick Lowe once asked, "What's so funny about peace, love, and understanding?" Stutt seemed to be asking, "What's so funny about busting your ass for art?"