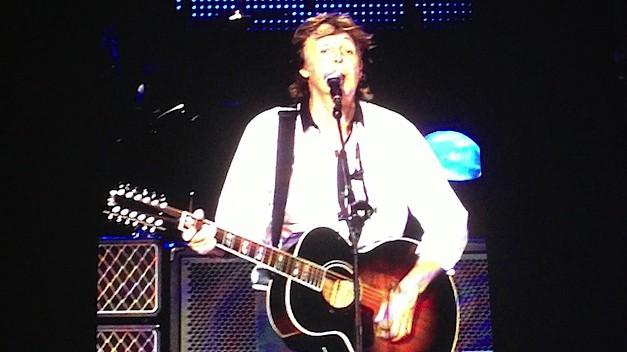 At this point, writing about a Paul McCartney show is like writing about, well, The Beatles. There's not a whole lot left to say. So instead of running through the man's résumé (he was in The Beatles, and then Wings) and using the phrase "living legend" for the eight-billionth time, let's cut to some pertinent questions and answers regarding his sold-old show Tuesday night at Miller Park:
How did he sound?
Pretty damn terrific. McCartney is 71, though you wouldn't know it from his voice. For the most part, Macca can still hit the falsetto "ooohs" and the throat-shredding screams that were his bread and butter a half-century ago. If the chore of playing "Hey Jude" one…more…time has taken its toll on McCartney's keen sense of showmanship, it wasn't apparent Tuesday night. His four-piece band, meanwhile, was spot-on, turning in faithful renditions of everything from opener "Eight Days A Week" to "Maybe I'm Amazed." Nearly every song was performed in its original key, and every one sounded exactly as you remembered it. At a Paul McCartney show, that's a good thing.
What did he play?
Pretty much everything you'd expect. "The Long And Winding Road"? Of course. "Lady Madonna"? You bet. "Live And Let Die" and "Hey Jude"? Duh. McCartney's show ran for nearly three hours, and he dutifully touched on nearly every Beatles ("Eleanor Rigby") and Wings ("Band On The Run") staple known to man. Only one new song, "My Valentine" (from last year's Kisses On The Bottom, and dedicated to wife Nancy Shevell, who was in the audience), made the set list. Other highlights in a show comprised of nothing but highlights included "All My Loving," "Your Mother Should Know," "And I Love Her," "Mrs. Vanderbilt," and two encores that included "Day Tripper," "Hi, Hi, Hi," "Get Back," "Yesterday," "Helter Skelter," and the final "Golden Slumbers/Carry That Weight/The End" movement from Abbey Road. Only at a Paul McCartney show would "I've Just Seen A Face" and "We Can Work It Out" qualify as mid-set filler.
Were there any surprises?
Quite a few, actually. McCartney has been mining more than a few gems for his current "Out There" tour, playing a handful of songs live for the first time. His first solo single, "Another Day," made the cut, as did a faithfully trippy rendition of "Being For The Benefit Of Mr. Kite" (the only primarily Lennon-sung song McCartney would tackle throughout the night). Another Sgt. Pepper track, "Lovely Rita," made a surprise appearance, as did—get this—the delightfully dopey "All Together Now," from the much-maligned Yellow Submarine soundtrack. ("One of our more intellectual songs," McCartney joked.)
Did he dedicate something to John and George?
Yup. McCartney played the lovely "Here Today" for Lennon ("Let's hear it for John!") and a moving, ukulele-fied version of "Something" for Harrison ("Let's hear it for George!")
Did the show start "about 45 minutes late," as FOX 6 claimed?
No. Like every other show on this tour, a 40-minute, vertically scrolling video slideshow covering McCartney's entire life began at showtime—in this case, 8 p.m. McCartney himself took the stage around 8:45, and played until 11:30 p.m.
How ridiculous were the pyrotechnics during "Live And Let Die"?
Very.
How hot was it in Miller Park?
Very, very.
How expensive were T-shirts?
$40 for S-XL, $45 for XXL. People who complained about the high prices were likely the same folks who couldn't believe Miller Park was charging $30 for parking.
Was the whole thing worth it?
Yes. It's not every day you get to see a living legend (damn, so close) in the flesh. Beyond the thrill of seeing one of the fucking Beatles live, McCartney put on a monster-sized show that played to every seat in Miller Park. "How about this…we'll see you next time!" McCartney shouted after he finished running through one of the most celebrated catalogs in pop music history. That's the kind of optimism people paid to see, and the kind of promise someone like McCartney can keep.