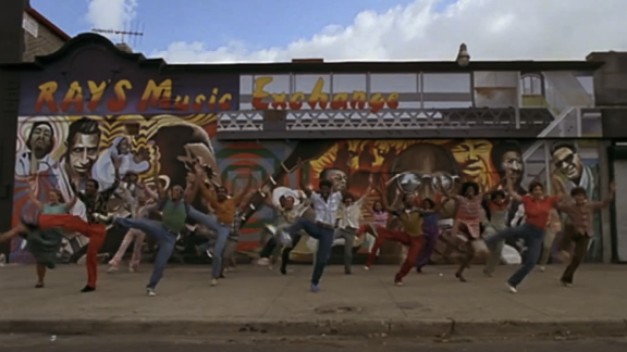 "Dance like there's nobody watching" may be good advice for high school seniors and insufferable Facebook friends, but it's potentially bad news for the rest of us. Luckily, we have cinéma vérité classics like Dirty Dancing and Step Up 3D to vicariously live out our dance-floor fantasies. But every so often, a curious phenomenon pops up in a non-Swayze-starring film that threatens to break our suspension of disbelief: A mysteriously choreographed dance scene that defies all narrative logic.
In honor of David Zambrano: Soul Project this Saturday at MSOE's Kern Center—in which Zambrano and company will perform solo dances to classic soul and R&B recordings—The A.V. Club rounds up six movies that feature inexplicably choreographed dance numbers. Musicals and movies specifically about dancing have been excluded, of course, leaving only those where everyone magically knows the right moves.
The Blues Brothers (1980)
The Blues Brothers blurs the line between "movie musical" and "movie with music in it," making its inclusion in this list somewhat questionable. Still, it's hard to ignore Ray Charles' electric performance of "Shake A Tail Feather." The synchronized steps from Jake, Elwood, and the band inside Ray's Music Exchange make narrative sense, but the en masse dance party outside—in which nearly half the city of Chicago does the twist, the monkey, and the mashed potato—most certainly does not. But hey, it's fun and the choreography looks great—two things director John Landis would bring to the video for Michael Jackson's "Thriller" four years later.
She's All That (1999)
Next to Can't Hardly Wait and Spice World, no film captures the inherent strangeness of the late '90s better than She's All That. Rachael Leigh Cook and Freddie Prinze, Jr.? Check. Fatboy Slim's once-ubiquitous "Rockafeller Skank"? You better believe it. The film's mysteriously choreographed prom dance is the stuff of '90s legend, made even more amusing by the lame explanation offered by the DJ (played by Usher, of course): "Right about now we're going to do that dance I taught you. And I know you've been practicing!" Nice try, Usher, but no explanation is needed for something this awesome.
Strange Behavior (1981)
This little-seen Australian slasher flick may not have the cultural cache of your Nightmare On Elm Streets or Slumber Party Massacres, but it does contain one of the finest mysteriously choreographed dance scenes in all of filmdom. (It also stars that dude who played Billy The Kid in Bill And Ted's Excellent Adventure.) Set to Lou Christie's insistent "Lightnin' Strikes," the scene begins with some general flailing about, but soon turns into triumphant, New-Wave-y group dance. Hell, even Janet Maslin praised the "punk vitality of [the] obligatory party scene." It's clearly the moment that spawned a million cool-kid dance parties.
Romy And Michele's High School Reunion (1997)
High school reunions have long served as prescribed social gatherings to flaunt your adult accomplishments and make out with former popular kids/current divorcees. But what if your post-high-school life is a wash? What if you really didn't invent Post-Its? If you're Romy and Michele, you silence the haters by calling on your beginners' ballet training for an intricately—and ridiculously—choreographed dance number to Cyndi Lauper's "Time After Time." Who's going home with gazillionaire Alan Cummings now, creeps?
Good Burger (1997)
Though it was considered a flop when it was released, the delightfully ramshackle Good Burger has gone on to cultivate a minor cult following. It's easy to see why: Based on a recurring sketch from Kenan Thompson and Kel Mitchell's Nickelodeon series All That, the film is downright bizarre ("Welcome to Good Burger! Home of the Good Burger!") when it isn't busy being borderline surreal ("I'm a dude. He's a dude. She's a dude. 'Cause we're all dudes.") And the weirdness never lets up: After they're sent to a psychiatric ward following a "shark poison" mix-up (don't ask), Kenan and Kel lead a group of patients in an impeccably choreographed dance to Funkadelic's eternal "(Not Just) Knee Deep." Frivolous or not, if it's good enough to warrant a cameo from George Clinton himself (and don't forget about Abe Vigoda!), it's good enough for us.
Ferris Bueller's Day Off (1986)
"What do you think Ferris is going to do?" asks girlfriend Sloane Peterson moments before "Twist And Shout" blares forth from the Bueller-manned parade float. Question answered, Sloane. The mysteriously choreographed dance amidst the chaos of Ferris Bueller's famous parade scene is a doozy, with a random dance troupe gliding across the screen, clapping, and belting out some "Uh, uh, uh"s. Paul McCartney may not have been happy with the addition of some "lousy brass" to "Twist And Shout," but this scene's ability to inspire a baffling dance number will forever go unchallenged. Not even "Danke Schoen" can top that.