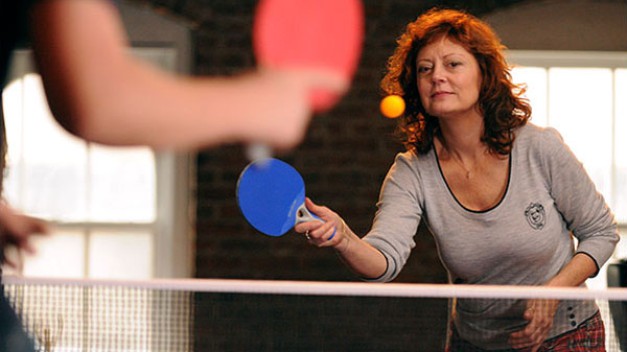 If you were to make a list of what our cash-strapped, financially troubled city needs the most, "upscale ping-pong club owned by that lady from Bull Durham" probably wouldn't make the top five. But back in August, the much-hyped, capitalization-happy SPiN Milwaukee gave a figurative middle finger to our dire economic climate and set up shop in the city's fashionable Third Ward. The club is the burgeoning pet project of actress/entrepreneur/ranking babe Susan Sarandon—other SPiN locations include New York and Los Angeles—and caters to folks who aren't afraid to drop a hefty chunk of change on a game long relegated to finished basements and garage attics. SPiN is big, it's bold, and it's gloriously out of step with our economically depressed times.
But could SPiN be just what Milwaukee needs? Could this temple of ping-pong debauchery lift the spirits of those running low on hope? Might it take us all back to the heady, hedonistic days of dot-com bubble prosperity, a time when the idea of an ultra-swank table tennis club didn't seem grossly decadent and faintly ridiculous? Of course not, but The A.V. Club investigates anyway.
Welcome to the Terrordome
Stepping out onto SPiN's main floor, the first thing that strikes you is the sheer absurdity of the place. Measuring 16,500 square feet, the arena-like room is more than a little overwhelming. A dozen or so ping-pong tables are scattered throughout, and a bleacher-flanked "main event" table occupies the middle of the floor. A long, minimalistic bar, offering a good selection of downtown-priced drinks, sits near the back. Up above, tinted lights slowly change colors and bathe the proceedings in a warm, multi-hued glow, no doubt in homage to the low-fi stage backdrop of Bill Cosby's seminal 1983 concert film, Himself.
The second thing that strikes you upon entering SPiN is, most likely, a ping-pong ball. Players are free to let their balls fly free, so to speak, and don't have to worry about chasing down errant shots. Instead, a group of lowly attendants constantly circle the floor, scooping up loose balls with long nets and depositing them back in buckets attached to the tables. If that's not enough, SPiN offers a handful of plush, curtained-off VIP rooms, perfect for players who like to combine the competitiveness of ping-pong with the ambiance of a strip club.
Ping-pong at premium prices
It goes without saying that all this paddleball opulence doesn't come cheap. Indeed, SPiN's prices aren't for the faint of heart, but perfect for those who like to believe they still have anything resembling disposable income. Non-member court rates are $16 per hour before 6 p.m., and $24 after 6 p.m. An individual annual membership will put you back $360, which effectively cuts the non-member court rates in half. Don't expect this season pass to pay for itself in two or three trips, a la Six Flags—you're going to have to play a lot of ping-pong to get your money's worth.
For all its upscale trappings and high prices, however, there's still a faint whiff of charming shabbiness that hangs in SPiN's rarefied air. Maybe it's the weird "teen center" vibe, or maybe it's the way the place can come off as nothing more than a dorm hall rec-room with better booze. Or maybe it's the fact that, at the end of the day, there's only so much you can do to class up a game that involves grown men and women whacking plastic balls with felt-covered paddles.
Serious balls
Steep prices and dorm-room chic notwithstanding, SPiN seems to be doing surprisingly well. During a few recent weeknight visits, the place was completely packed. Every table was in use, and serious-looking, headband-wearing players were mopping up on the center court. Aside from the odd Patrick Bateman business type, the crowd skewed young and college-aged, and seemed to be entirely made up of the nearby MIAD's students. Apparently, there are more than enough average Milwaukeeans willing to spend their hard-earned money on some hot ping-pong action. Or, perhaps more precisely, there are more than enough average Milwaukeeans willing to spend their parents' money.
At the very least, SPiN deserves points for sheer chutzpa. Opening a high-end ping-pong club in a city facing nasty budget crises and collapsing infrastructure is gutsy at best, foolhardy at worst. Still, there's something appealing about SPiN's upscale obliviousness. Will it be the cure to our city's many ills? No. Will it prove to be nothing more than an ill-timed fad, and soon go the way of Internet cafes and oxygen bars? Maybe. Is it fun to pretend we're once again living in an age when we can get away these luxuries, if only for an hour? Why not?