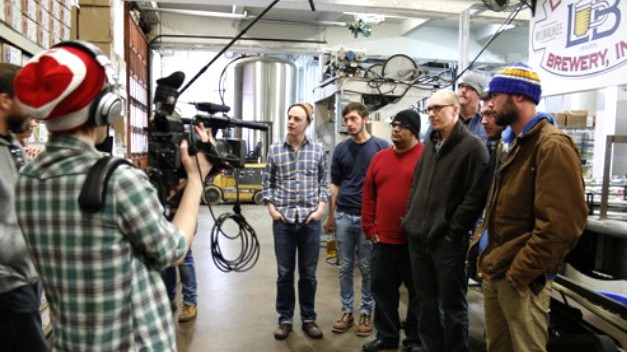 The members of Field Report are at the final stop of the Lakefront Brewery tour, timidly singing along to the Laverne & Shirley theme song that blasts from a beat-up boom box. Two HD cameras and a boom mic are trained on Chris Porterfield and company as they gamely stumble their way through the song, a dozen or so paying Lakefront tour customers looking on in bemusement. In a few short hours, the six members of the band will be eating fish fry upstairs in Lakefront's Palm Garden—and eventually dancing to a polka rendition of "Supercalifragilisticexpialidocious"—all while being scrutinized by a crew of filmmakers. Schlemeel, schlemazel: Welcome to Milwaukee, as seen through the lens of Cream City Soundcheck.
For nearly a year, Cream City Soundcheck has been churning out short documentaries that cleverly combine Milwaukee bands (and some national groups) with the city's many idiosyncratic locales. In one video, The Fatty Acids visited Growing Power Cafe and the Estabrook Beer Garden via bicycle; in another, the members of Maritime ordered some custard at Leon's. Cream City cameras were on hand when Blessed Feathers' Donivan Berube proposed to bandmate Jacquelyn Beaupre on stage at Turner Hall (with the cooperation of the Pabst Theater Foundation, most videos feature live concert performances), and tagged along as the members of Kane Place Record Club got pelted at the East Side's annual Tomato Romp. But what makes the series notable beyond its knack for mashing up Milwaukee bands and Milwaukee institutions is that it's produced by Milwaukeeans who probably aren't old enough to fully partake in something like Estabrook or the Lakefront tour. A project of the University of Wisconsin-Milwaukee's doc|UWM program, Cream City Soundcheck is produced entirely by students.
"In my second year of being in the film program, I didn't think I'd get to do something like this," says film student Joe Lindner, who is acting as producer on the Field Report/Lakefront shoot. "I've been pretty amazed at some of the cool stuff that you're able to do here."
Lindner, clipboard in hand, has been busy throughout the afternoon, "sticking to the camera people like glue, making sure they're getting the right shots." It's a tough shoot—not only is the crew documenting Field Report, they're doing so during a live brewery tour. Camera operators weave in and out of the crowd as it winds its way through the bowels of Lakefront; sound people struggle to get useable audio in the cavernous space. Another student, Becky Cofta, serves as the group's promotion director, and busily snaps pictures and tweets updates on the tour's progress. Hovering at the fringes are doc|UWM co-directors Ryan Sarnowski and Jenny Plevin. The slightly frazzled Sarnowski has been providing plenty of guidance throughout the shoot—moving people in and out of frame, suggesting different angles—but the crew is remarkably self-sufficient. Even though students swap roles before each shoot, they're handling their duties like grizzled pros.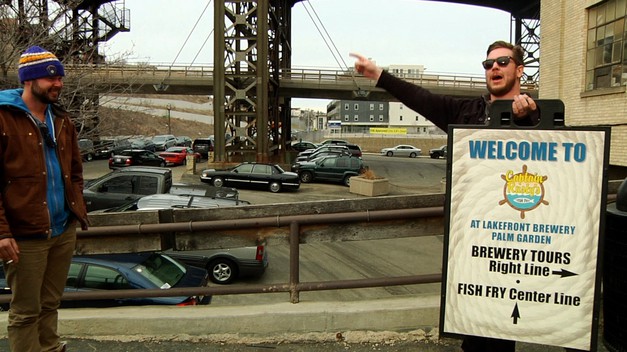 For the Field Report/Lakefront video, Sarnowski says he was inspired by a comment from Porterfield about how he sees Field Report as "ambassadors for Milwaukee." Indeed, it takes a certain amount of nerve to shoot a video featuring beer, fish fry, and Laverne & Shirley in Milwaukee circa 2013. (Mayor Tom Barrett famously declared "Laverne and Shirley don't live here anymore!" at the 2012 Milwaukee Film Festival—less than five years after the city erected a bronze Fonzie statue.) But what makes both Cream City Soundcheck and Field Report special is that they own their Milwaukee heritage. Instead of slapping the city's name on a video, event, or t-shirt and calling it a day, Cream City puts its civic-pride money where its mouth is, and actually shows the people, places, and music that make Milwaukee special. Even better, it does so while helping a new crop of Milwaukee artists sharpen their filmmaking (and Milwaukee-pride) chops.
Out on the front lawn of Lakefront, before the fish fry and subsequent polka madness, the members of Field Report stand in front of the brewery's Three Stooges kettle murals, answering questions from Sarnowski and his crew. In between tour stories and a show-and-tell of the band's matching tattoos, Porterfield is asked why he chooses to remain in Milwaukee. "This is home base. This is where stuff happens," he says. It's a bold claim; happily, the Cream City cameras are rolling, backing that claim up.