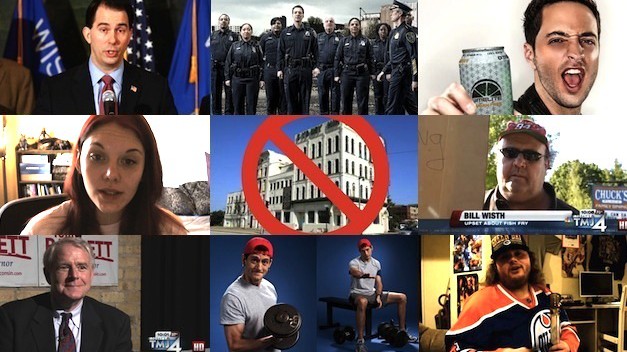 Like it or not, 2012 was the year when Milwaukee was shoved into the national spotlight thanks to a couple of dudes named Scott and Paul. But instead of dwelling on divisive politics, we prefer to remember the year for its more mundane and dopey moments, like the time that fat guy in Mequon picketed an all-you-can-eat fish fry. Here are a few of our favorite news stories from 2012, ranging from satanic Girl Scout leaders and Ted Nugent to UWM streakers and—yes—Scott Walker and Paul Ryan.
January
The big story: Gov. Walker responds to 1M recall signatures by watching American Idol, reporting morning weather
Remember when Wisconsin Democrats collected more than a million signatures to recall Gov. Scott Walker? Remember when Gov. Walker responded to this historic event with two less-than historic tweets? "Watched American Idol tonight w/Tonette, Matt & Alex. Its [sic] amazing that some contestants were little kids when show started," read one tweet; "Be careful today. The roads are slick," read another. Walker would survive the recall election, though a second career as a helicopter weatherman is still a promising option.
Other stories: R.I.P. Bob Watt; Packers loss inspires epic, drunken meltdown
February
The big story: Let's talk about the Wisconsin Girl Scout leader who was let go because of a "satanic" website
In February, Stacy Hintz, a self-described "28-year-old mother of two from West Bend, Wisconsin," was asked to cease her volunteer activities with the Milwaukee-based Girl Scouts Of Wisconsin Southeast. Hintz had been working with her young daughter's local troop for four years, and was an upstanding leader by all accounts. But when it was discovered that Hintz was involved with a website called Wisconsin Sickness, her co-leader asked her to step down. Apparently, the co-leader felt the site promoted "sin," "demonic activities," "zombie porn," and other scary stuff. The story ended up making national news, and Wisconsin Sickness used its moment in the spotlight to sell a bunch of "Zombie Porn Star" T-shirts.
Other stories: Holy shit! Ryan Braun wins drug test appeal; R.I.P. Frank "Pepperoni Cannoli" Pecoraro
March
The big story: City of Milwaukee to demolish Sydney Hih building
Milwaukee's iconic Sydney Hih building wouldn't fall until later in the year, and only then after an endless back-and-forth between the city and a group of too-little-too-late supporters. But the initial news that the building had been scheduled for demolition was a big deal. Throughout most of the '80s and '90s, Sydney Hih housed Milwaukee's première underground music club, The Unicorn. In later years, its many rooms served as affordable (and easily burglarized) practice spaces for Milwaukee bands. While the demolition wasn't all that surprising, it was still sad to see such an important part of Milwaukee's musical past get wiped away. Progress, we suppose.
Other stories: UWM streaker: "This is the planet you reside on, humans!"; Oops, he crapped his pants: Clay Matthews does ad for adult diapers
April
The big story: Wisconsin pastor defends Ted Nugent, suggests Secret Service "put Ted up to it"
Part-time musician and full-time chortling jackass Ted Nugent felt the heat in 2012 after suggesting that if President Obama was re-elected, "I will either be dead or in jail." But Sweaty Uncle Teddy did have one supporter: In a scripture-quoting blog, Pastor Stephen Jennings of Trinity Lutheran Church And School confessed to being a longtime Nugent fan, and dismissed the "kill 'em and grill 'em" proponent's remarks as nothing more than the divine ramblings of a man prone to saying stupid shit. He also suggested that the Secret Service had somehow framed Ted to take the heat off its own Columbian prostitute scandal.
Other stories: Charlie Sykes doesn't understand Carroll University's "Wall Of Prejudice"; Mayor Barrett begins third term
May
The big story: Wisconsin man takes a cue from The Simpsons, pickets all-you-can-eat fish fry for "false advertising"
A Mequon man who was shockingly not named Homer Simpson made national news after picketing a family-run restaurant because of "false advertising" in its all-you-can-eat Friday night fish fries. It seems that Bill Wisth became upset when the staff at Chuck's Place cut him off after he scarfed down 20 pieces of fish. Wisth claimed he was still hungry, and that the restaurant's all-you-can-eat policy entitled him to, well, all he could eat. So what was a totally sane, 350-pound dude who loves fish fry left to do? Boycott the restaurant, of course. Yes, this is the way the world ends: not with a bang, but with a Simpsons episode come to life. And a side-order of rye bread and coleslaw.
Other stories: Owner of Kopp's Frozen Custard proposes legalizing marijuana; Milwaukee alderman takes stock of his precious bodily fluids, proposes ending water fluoridation program
June
The big story: The 5 stages of recall grief
Remember that whole "recall" thing? Yeah, that didn't really work out.
Other stories: Wisconsin wife attacks husband after finding The Onion in car; Summerfest will offer one-pound, $25 hot dog
July
The big story: Some dude in Oak Creek thought he killed Al Capone's son, but it turns out he was just drunk
Who among us hasn't imagined going back to the days of Prohibition and taking on vile gangsters like Al Capone? A 64-year-old man in Oak Creek apparently did, if his July run-in with "Al Capone's son" was any indication. The man called 911 to report the notorious crime boss' son was holding a gun to his head in his car at the Villa Vista Hotel. Before officers could reach him, he claimed he had killed his infamous attacker by breaking his neck. Of course, the dude was just hammered. Police arrived to find the man alone in his car, and quickly arrested him for drunken driving and misuse of 911.
Other stories: R.I.P. Dennis Flemion of The Frogs; Gov. Walker tweets about Noah's Ark, hilarity ensues
August
The big story: For incoming college freshmen, Kurt Cobain has always been dead (and 75 other things to make you feel old)
Beloit College once again made everyone feel horribly, horribly old by releasing its annual "Mindset List," a collection of 75 frightening fun facts that offer a glimpse into the minds and shared cultural experiences of incoming college freshmen. At the top of this year's list was the unnerving fact that for the class of 2016, Jacqueline Kennedy Onassis, Richard Nixon, John Wayne Gacy, and Kurt Cobain have always been dead. But maybe the most shocking bit of trivia contained in the list was number 37: "Martin Lawrence has always been banned from hosting Saturday Night Live."
Other stories: Hamburger Mary's sticks it to Chick-Fil-A with "hate-free" chicken sandwich; Dee Snider is not gonna take Paul Ryan using "We're Not Gonna Take It"
September
The big story: The 5 stages of Packers-"scab-refs" grief
Remember that whole "replacement ref" thing during the Packers-Seahawks game? Yeah, that didn't really work out.
Other stories: Help Milwaukee become a "creative powerhouse" by…blowing up a car?; MPD shares message of "safety and partnership" with UWM by arresting 25 UWM students
October
The big story: 5 alternate headlines to accompany these ridiculous Paul Ryan workout photos
Less than 24 hours before a highly anticipated vice presidential debate, TIME magazine released a "photo essay" of Republican VP candidate Paul Ryan demonstrating his workout regime. The photos were taken the previous December, and they depicted Ryan getting his P90X on while mugging for the camera in a way that clearly said "Please don't run these pictures the day before my debate." We presented five alternate headlines to accompany the ridiculous photos, including "WTF" and "And Paul Ryan…as The Beaver."
Other stories: Watch two Canadian stoners recount their trip to Milwaukee (and get really high); Someone finally got around to writing a Milverine song
November
The big story: Wisconsin takes off shoes, cries, joins idiotic "secession petition" meltdown
In the wake of President Barack Obama's decisive reelection, shell-shocked Republicans were left scratching their heads. Was presidential hopeful Mitt Romney too extreme? Too middle-of-the-road? But while level-headed party members were undoubtedly dreaming up ways to court the lucrative Latino vote in 2016 and appeal to those things called "women," more extreme and petulant conservatives were melting down, Richie Tenenbaum-style. Stories of "secession petitions" had been coming out of notoriously flakey southern states like Louisiana and Texas, but Wisconsin soon got in on the idiotic action.
Other stories: Charlie Sykes would like to remind you that America is doomed, and that his latest book is still available on Amazon; Caledonia woman allegedly steals $2,200 worth of Star Wars toys from neighbor
December
The big story: Yup, Robin Yount (accidentally) shot Dale Sveum
No one could have guessed the biggest story to come out of baseball's 2012 winter meetings: Brewers Hall-of-Famer and determined lemonade pitchman Robin Yount accidentally shot Chicago Cubs manager Dale Sveum in the ear while hunting quail in the offseason. Sveum was fine (his ear was bloodied, but it didn't require stitches), and even though he was the one who brought it up, he tried to downplay the incident. "It's not that big a deal," Sveum said, making us regret axing our original "Get up, get outta ear!" headline.