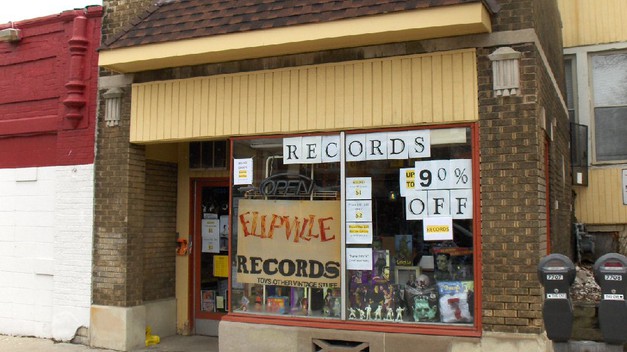 In the years leading up to his death in April, Flipville Records proprietor Geoff "Stinky" Worman had turned his small business at 1936 N. Farwell Ave. into something of a personal junk drawer. More than 20,000 vinyl LPs and 45s cluttered the already-cramped quarters. Board games, puzzles, and bags of toys clogged the aisles. Somewhere beneath an improbable pile of even more records and games, the store's display case had long since been buried. Flipville, an East Side fixture since 1992—next door to Koppa's and across the street from Comet—was bursting at its seams.
"There was literally one tile's worth of open floor space," says Paul Worman, Geoff's younger brother. "He knew where stuff was, but he had to move a pile of something just to get at it."
Following the elder Worman's death at 53 after a short battle with kidney cancer, Paul and his family took on the somewhat daunting task of sorting through Flipville's bewildering amount of stock. They cleared out nearly a third of the clutter, carefully dismantled Geoff's "Dr. Seuss-like shelving," and generally made the space more hospitable. Initially, they planned on selling off what they could in a short-term, in-store sale. But when the building's manager failed to find a new tenant, and Paul found himself with some extra free time in August, Flipville once again became a long-term concern. "It's not technically the business of Flipville," Worman explained. "I'm really selling the stuff off as an extended estate sale."
Business or not, the store's mythical stacks of vinyl and mountains of kitsch happily remain, though they've now been pared down to a more fathomable scale. Of the original 20,000 records, only 5,000 remain, covering everything from rock, jazz, new-wave, and outré. A recently installed turntable and set of speakers finally allow customers to listen before they buy. Concentrated clutches of action figures and bobble heads stand in the store's recessed back room, while an entire set of shelves has been dedicated to, of all things, horse figurines. In the months since he started manning the store, Worman still discovers new items hidden among the stacks and behind the shelves.
Even with a somewhat reduced stock, Flipville remains a riot of unique finds. Hundreds of board games battle for space in the store's limited square footage—everything from a 1966 Kreskin's ESP set to an official Close Encounters Of The Third Kind board game. G.I. Joe, Captain Action, Green Hornet, and Universal Studios horror movie figurines abound, all guaranteed to pull mightily at the nostalgia-soaked heartstrings of most every pop-culture-weaned 25- to 55-year-old. Prices and conditions for Flipville's wares vary wildly, though most of the LPs have been reduced to $1-$2.
The future of Flipville remains a work-in-progress. Worman and his family plan on keeping semi-regular hours through the end of the year—typically 10 a.m. to 7 p.m., seven days a week. Flipville's doors will also be open until 5 p.m. on Christmas Eve. When the doors finally do close for good, any remaining merchandise will be packed up, stored, and eventually put up for auction on eBay and other sites. "If I won the lottery, I'd stay there indefinitely," Worman says. "It's a great place to be, to just come in and hang out."
In the end, Worman hopes that most of the items will find themselves back in the hands of nearby Milwaukeeans. "Geoff wanted the music to go back to the neighborhood that supported him over the last 18 years," he says. "I do, too."
It may be late in the game to bemoan the loss of yet another analog institution, but in a world increasingly obsessed with pleasantly banal, bloodless customer service, the charms of places like Flipville—the impenetrable mountains of merchandise, the thrill of the hunt, and the sometimes-messy human interaction that comes with it all—are still rarities worth rooting around for.