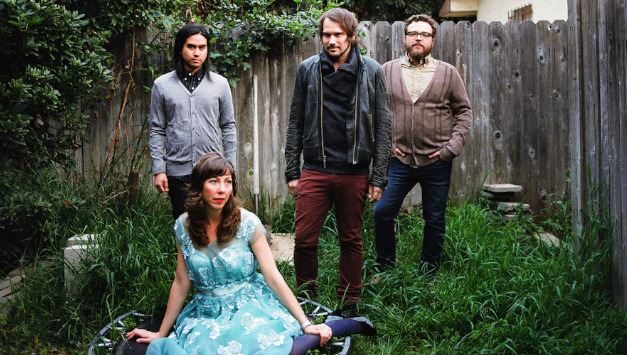 Silversun Pickups frontman Brian Aubert has likened his band's newest album, Neck Of The Woods, to a horror movie. That description reaches far beyond the record's evocative title and quietly unsetting cover; while 2006's Carnavas and 2009's Swoon found the L.A. group awash in fuzzed-out, wide-eyed guitarscapes heavily indebted to My Bloody Valentine and Smashing Pumpkins, Neck Of The Woods roughs that sound up a bit and comes away with something darker and more brooding. It's a small but welcome progression for a band that has long worked within a frightfully narrow retro-genre of its own making.
Aubert's horror-movie description isn't just an abstract mood—it's practically a concept. Terrific lead-off track "Skin Graph" reads like a navel-gazing H.P. Lovecraft tale ("All I think about is why / the skin I'm in feels ordinary") scored with pulverizing, industrial-strength guitar stabs. "Bloody Mary (Nerve Endings)" puts an even finer point on the slasher-film vibe by using a teenage urban legend as the jumping-off point for a melodic and pleasingly cinematic song. These and other tracks tease out the group's latent industrial and goth tendencies without becoming embarrassing or overbearing. It follows that Woods is the most fussed-over of the Pickups' full-length albums, stuffed with gut-punch drum machines ("Here We Are (Chancer)"), Depeche Mode synth ("The Pit"), and meticulous washes of noise (the particularly pretty intro to "Bloody Mary").
But for all these subtle gearshifts, the Pickups remain a distinctly acquired taste. The group's unabashed '90s-worshipping is still on full display, and its love affair with melody may be too poppy for some purists' ears. Aubert's androgynous whine remains, too, though it's given a coarse makeover that suits the album's gloomier material. Neck Of The Woods may not coax many new fans to the Pickups' newly appointed Camp Crystal Lake, but it gives those already there something dark and sinister to mull over.