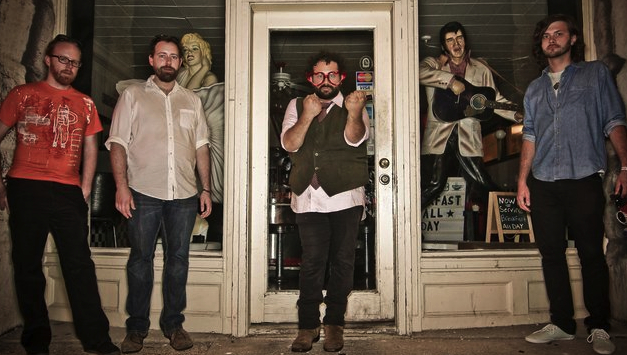 In today's nostalgia-obsessed music climate, bands don't break up—they simply go on "hiatus" before embarking on lucrative reunion shows. Fall Out Boy ended a three-year split with last year's chart-topping Save Rock And Roll; Outkast is rumored to reunite for Coachella 2014; the Pixies have been on their victory lap longer than they were originally together. The "we're getting the band back together" itch can be felt in Milwaukee, too, with groups like Die Kreuzen and The Promise Ring reuniting to local and national acclaim. Clearly, "absence makes the heart grow fonder" holds true for both love and bands you dug in high school.
But what about tomorrow's nostalgia? Which recently defunct Milwaukee bands will local music fans be pining for in two or three years? In advance of Saturday's Pablove Benefit Concert at Turner Hall—a show featuring reunion sets from Milwaukee bands Alligator Gun, The Benjamins and Subside—we rounded up five local bands that should really, really get back together.
The Celebrated Workingman
No one in town can belt out a song quite like Mark Waldoch, which is why the early 2013 announcement that the prolific singer's latest and greatest band, The Celebrated Workingman, was calling it quits struck such a bum note. A full-on reunion would be terrific, though a one-off show of 2011's Content Content played front to back would be swell, too.
Compound Red
Nineties hardcore stalwart Compound Red has been absent since the Clinton administration—the group split in 1999—but a 2006 reunion show still has the band fresh in our minds. Here's hoping Compound Red once again summons the ghosts of sweaty basement shows in the near future. Barring that, its classic albums can be enjoyed on the always-awesome MKEPunk.com.
Decibully
Decibully played its last show in 2011, and released a final, self-titled album that same year. But wrap your heads around this fun fact: The beloved indie group's landmark album, City Of Festivals, turned 10 in 2013. Needless to say, Milwaukee without Decibully seems somehow, well, wrong. A reunion in the next few years would be a nice tribute to a band that once defined an entire city.
Juniper Tar
It's been less than four months since Juniper Tar said goodbye—necessitated by lead singer Jason Mohr's relocation to Denver—but Milwaukee's music scene is already poorer for the band's absence. A harmony-drenched 2012 album, Since Before, coupled with a month-long residency at The Hotel Foster solidified the group as one of the city's very best. Let's cross our fingers that Mohr decides to pay a visit to his old stomping grounds soon.
The Mistreaters
After years of hard partying and beer-soaked shows, expert sleaze-rock purveyors The Mistreaters played their final show Dec. 30, 2011 at the Cactus Club to celebrate the venue's 15th anniversary. Frontman Chris Schulist can still be found bartending and DJing Packers game at Cactus, but it would be great to see him on the club's stage, as well – hopefully before the 20th anniversary.