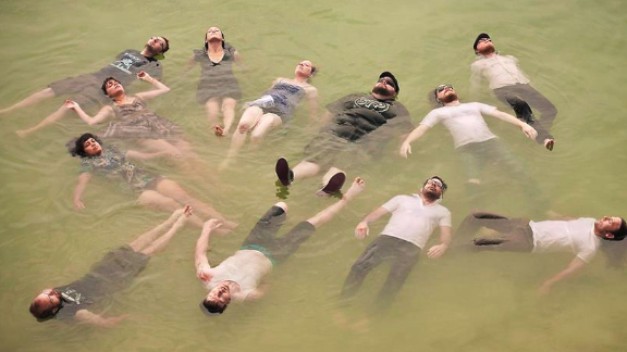 Since forming in 2006, Milwaukee's Group Of The Altos has pegged itself as "a surly high school orchestra." It's a fine description, but it only gets half the story right. At 12 members strong, the group certainly shares the size and breadth of an orchestra, with marching-band brass swapped out for violins, violas, and saw. But on the breathtaking new Altos—a title to match a recently pared-down band name—the group's demeanor isn't so much surly as it is menacing. One glance at the band's water-bound publicity shots reveals a collective look of mundane, dead-eyed horror seemingly on loan from a Stephen King novel. (Beep beep, Ritchie. They all float down here.) Altos is a thrilling and deeply unsettling record, made even more unnerving by the unexpected undercurrents of life lurking below.
Couched squarely in the sometimes-overcrowded niche of instrumental post-rock, Altos' music has nevertheless managed to stand out from the crowd, thanks in part to a prominent avant-garde edge. The three songs on the new, nearly 30-minute album retain that sense of sinister experimentation, but stand as the group's most accessible to date. Opener "Sing (For Trouble)" starts slowly, with simple piano chords and plucked guitar strings providing a foundation for mournful strings. It isn't until the four-minute mark that the track stretches its legs, with Altos' boy-girl collective intoning the song's title in a breathy and resigned sigh. The track's final minute is a wonder, beginning with a sudden burst of noise and feedback before shooting off into a wholly unexpected, overdriven rock climax. That Altos manage to stuff all that in 60 seconds speaks to the group's unique abilities, and it's peculiar sense of economy.
The bulk of Altos is given over to the third track, "Him Vs. Hymn," a moody 15-minute mini-epic that slowly moves back and forth from hushed and creeping to coiled and cacophonous. But it's the back-loaded "Never Named" that contains the album's finest moment: at roughly the four-minute mark, Altos square off—boys vs. girls—and trade vocal jabs. It's a gorgeous and evocative moment, and conjures up images of a sex-separated high school dance, with each side regarding the other from across the gym with glowering Kubrick stares.
Recorded by Brian Joseph and Jaime Hansen at Bon Iver frontman Justin Vernon's April Base Studios, Altos shares some of Vernon's DNA (band member Daniel Spack also does time with Volcano Choir and Collections Of Colonies Of Bees), but cuts a strange and troubling path all its own. Following the flush of Bon Iver-sparked attention to the state, the album also marks a fine first entry in what could be a pivotal year for Wisconsin music. Always inventive and never comfortable, Altos is the sound of a band creeping up behind you, and of a scene moments before the explosion.