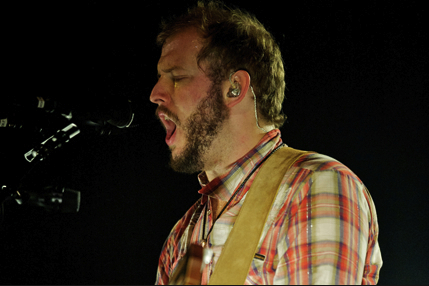 Minutes before Justin Vernon and Team Bon Iver kicked off their tour with a sold-out two-night stint at Milwaukee's Riverside Theater, a representative from the mayor's office — and Vernon's godparent, as it happened — took to the stage and proclaimed July 22, 2011, to be "Bon Iver Day." It wouldn't be the last time Vernon and the band were showered with lavish praise. In fact, for a Friday night set that included most of the new Bon Iver album, a few For Emma ringers, and a bat-shit-awesome cover of Bjork's "Who Is It," the least overwhelming moment was the goofy proclamation from city hall. (Fun fact: The last time this hometown holiday was dished out was in 2009, when Milwaukee honored American Idol finalist Danny Gokey.)
But on to the big news: The songs from Bon Iver's self-titled album have gotten, well, big. The set found the group taking the form of a nine-piece juggernaut, one that included two booming drum kits, an array of rich brass, and a belching bass sax straight from the death-knell-soundtrack to Inception. The layered complexity of Bon Iver was replicated in full, but was shot through with an unexpected amped-up intensity.
Opening with a muscular, bowel-shaking take on "Perth," it was immediately clear that Vernon and his band had indeed traded their beards for brawn. The once-willowy "Calgary" benefitted most from the upgrade, and served as just one of the night's many beefed-up highlights. For a band that depends so heavily on sonic texture — Vernon's falsetto-delivered lyrics remained just as impenetrable live as on record — the newfound heft was a revelation. Notably absent was the sensitive lumberjack vibe so simultaneously adored and derided by Mr. and Mrs. John Q. Indie Rock.
Marked by near-constant screams of "Wooo!" and "I love you!" the massive hometown adulation led to the night's biggest story: a tug-of-war between Justin Vernon, superstar, and Justin Vernon, the aw-shucks, local-dude-made-good. It wasn't always an even match. The singer appeared ill at ease during the show's opening half, fiddling with his phalanx of guitar pedals and shifting uncomfortably on his feet. But by the time the band rolled out an impressively epic "Blood Bank," it was clear Vernon had found his frontman footing. Even the semi-controversial shout-out to Milwaukee in "Holocene" elicited an "Are you ready to rock, Cleveland?"-style roar from the crowd.
Following a shouted, frantic performance of "Beth/Rest" — a vast improvement from the record's justly mocked Karate Kid vibe — the band returned for a rambunctious take on "Skinny Love." An unhinged "The Wolves (Act I & II)" served as the parting shot, and as the crowd went bonkers, all nine members of Bon Iver engaged in some serious dude-hugs before leaving the stage.
They were certainly well earned. Though Vernon's shopworn, isolated-cabin act was unmistakable, it was Bon Iver, the band, which left the most lasting impression, and which transformed something previously precious and fussed over into something ballsy and huge. Whether by design or accident, it was telling that Friday night was "Bon Iver Day," and not simply "Justin Vernon Day."