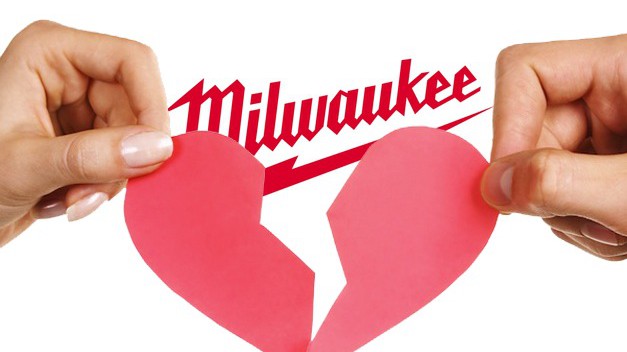 Like a longtime partner or a cute bartender, it's easy to love Milwaukee. The city is home to many big-city perks and almost none of the accompanying big-city headaches, and it usually has the decency to buy you brunch after a steamy night out. But no one, and no city, is perfect. For every hard-won civic triumph, there's a soul-crushing setback, and for every Milwaukee-based pro-baseball team, there's a Milwaukee-based pro-basketball team. In dubious honor of Valentine's Day, we flip through our junior-high diaries and defunct LiveJournal accounts to bring you a few times that Milwaukee has let us down, disappointed us, or broken our easily shattered hearts. (We're sticking mainly to pop-culture-related heartbreaks, as examples involving crime, hyper-segregation, and Sheriff David Clarke are far too depressing to contemplate here.)
1988: Bradley Center builds it, professional hockey team doesn't come
If you've ever trudged through the less-than-inviting concrete halls of the BMO Harris Bradley Center and gotten a weird '80s-roller-rink vibe, you're not far off: The hulking downtown arena was built in 1988 in hopes of attracting a professional hockey team to Milwaukee. Sure, the arena (then simply known as the Bradley Center) celebrated its opening with an exhibition game between the Chicago Blackhawks and the Edmonton Oilers, but a homegrown team never materialized. Now, 25 years later, the default home of the perennially heartbreaking Milwaukee Bucks is one of the oldest active arenas in the NBA and in serious need of an upgrade—or at least that's what we're constantly being told.
1995: Oriental Drugs closes shop
Traces of the East Side's bohemian past continue to be quietly wiped clean—think the slow transformation of Brady Street, or the ousting of that hippie dude who used to live above BBC—but the loss of Oriental Drugs in 1995 still stings nearly 20 years later. The iconic lunch counter/hardware store/pharmacy/hangout on the corner of Farwell and North had served as the East Side's default meeting place for more than 65 years. These days, the space is occupied by Replay Sports Bar—a fine establishment, if you're into those sorts of things, but far from the laid-back, coffee-and-newspaper diner that Milwaukee had come to love and depend on for so many decades.
2003: Gen Con takes its character sheet and goes home (to Indianapolis)
What does it say about a city when a convention dedicated to 20-sided dice and the indoor kids that love them says, "Thanks, but no thanks"? Okay, maybe that's not fair, as Gen Con—the largest and most celebrated gaming convention in North America—had simply outgrown Milwaukee by the time it pulled up stakes for Indianapolis in 2003. The con had been in Wisconsin since its inception in 1968, and in Milwaukee since 1985, and its presence tied in nicely with Lake Geneva's claim to fame as the birthplace of Dungeons & Dragons. But by the turn of the century, organizers were on a dungeon crawl for more hotel and floor space—two issues Milwaukee didn't seem keen on addressing at the time. A decade after the defection, there's finally talk about expanding the recently christened Delta Center to attract and accommodate more conventions. Could Gen Con make a triumphant return to Milwaukee? Only time—and a tricky +5 Luck roll—will tell.
2003: Globe East stops spinning
Milwaukee's East Side isn't exactly the first neighborhood that comes to mind when live music is discussed, but it wasn't always that way. For years, The Globe East was one the city's best venues for local and national acts, and provided an all-too-rare all-ages venue for the soda-and-cigarettes crowd. That all changed in 2003, when the Globe finally closed its doors. Happily, the current occupant of The Globe's old shell, Hotel Foster, is one of Milwaukee's best bars, and hosts some terrific music from time to time.
2006: Prospect Mall disappears
The Prospect Mall on Milwaukee's East Side was hardly anyone's idea of an actual mall. It was small, dingy, and always seemed to have a weird "seedy porn shop" vibe. But that's what made it so special—that and the bizarre stores and businesses that called the mall home. A dangerously stuffed used bookstore, a run-down video store (with plenty of porn, natch), and a delightfully beat-up first-run movie theater were just a few of the wonders that awaited patrons who ventured past the Chocolate Factory. After years of sitting vacant, the mall is slowly being transformed into new retail and apartment space. The return of Thai Joe's to the building's basement, however, is unlikely.
2008: Bronze Fonz proves that Laverne and Shirley still live here
At the opening ceremony of the 2012 Milwaukee Film Festival, mayor Tom Barrett proudly proclaimed that Milwaukee was a world-class city, and that "Laverne and Shirley don't live here anymore!" Funny, because less than five years prior, the city was falling over itself to prove that the fictional duo—and a character from the sitcom they were spun off from—did still live here. The Bronze Fonz controversy of 2008 began as a relatively simple issue of questionable public art, but quickly morphed into a battle for Milwaukee's very artistic soul. Local artist and rabble-rouser Mike Brenner famously threatened to close his Hotcakes gallery if the statue was built (he eventually did), and countless editorials wondered if embracing such sitcom schlock was really in Milwaukee's best interest. Years later, the Bronze Fonz has proven to be relatively inoffensive, and consistently draws a steady stream of tourists who want nothing more than to commemorate their trip to Milwaukee by kissing a not-quite-life-size statue of a grinning Henry Winkler.
2009: RiverSplash pulls the plug
For 20 years, the Milwaukee Riverwalk District's RiverSplash festival served as the unofficial kick-off to the city's ridiculously crowded summer festival season. The three-day fest ran into trouble in 2008, however, when a non-fatal shooting led to drunken chaos and plenty of unflattering press. The Riverwalk District pulled the plug on the fest the next summer. Whether that decision was premature remains to be seen—plenty of other summer parties have seen trouble, and all have persevered—though the month of June in Milwaukee has become one festival poorer.
2009: Atomic Records plays its last sad-bastard song
Long before the days of pirated MP3s and artist-screwing streaming services, music fans had to—get this—walk inside an actual store and purchase physical objects. Atomic Records was one of the city's finest indie brick-and-mortar record stores, having served Milwaukee for nearly 25 years before finally succumbing to the cold, digital future in 2009. The closing was a shame, not only for the loss of a place where music dorks could congregate and cajole, but for the end of Atomic's many memorable in-store performances. These days, a similarly named but completely unrelated head shop occupies the former Atomic space. A sign of the times, we suppose, though the recently opened Acme Records in Bay View is proof that the indie record store hasn't seen its final spin.
2011: Milverine is exposed
We know, we know: No one reported on the every move and purposeful stride of the once-fabled "Milverine" than us in 2011, but our coverage always urged Milwaukee to keep the fabled superhero/power-walker's identity under wraps. That all changed when Fred Gillich coaxed the Milverine from his lair and convinced him to hang out at the Too Much Metal shop during a 2011 Gallery Night. Milverine—a.k.a. John Hamman—dutifully showed up to sign T-shirts and talk shit about The Beatles, and ultimately proved to be a relatively normal dude who just happened to sort of look like the X-Men's Wolverine. The mystery may be gone, but Milvie still proudly prowls our streets. Here's hoping that never changes.
2012: Sydney Hih is demolished for some reason
No one but the most sentimental artist and/or squatter would have claimed that the Sydney Hih building was in good shape in 2012. Still, the city's decision to tear it down seemed like a punch in the gut, especially considering there were no plans to replace it with anything but a smoldering, empty lot. There were glimmers of hope throughout the year as supporters and investors (and a somehow fitting fire) rallied to save the building, but in the end, progress, as it's wont to do, trumped nostalgia. But never fear, Sydney Hih lovers: The building's iconic letters live on, and are currently in the possession of the ARTketeers of ART Milwaukee.