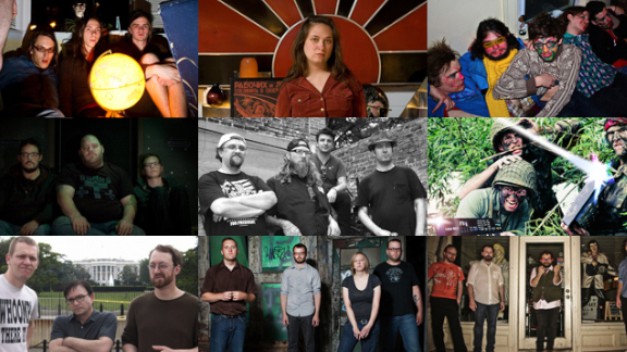 The following letter is a response to a Feb. 27 UWM Post Op/Ed piece entitled "Musical wasteland" by David Rangel.
Dear David,
Hi! I'm Matt Wild, city editor for The A.V. Club in Milwaukee. We don't know each other, but perhaps you've heard of the site. It's updated daily at this very Interwebz address, and it also runs in the back half of The Onion each and every week. The A.V. Club in Milwaukee is dedicated to local art, film, news, dopey superheroes, and whatever else happens to tickle our fancies. Oh, and music! We just love local music! Don't you?
Well, if your recent piece for the UWM Post is to be believed, you don't. Huh. Weird. For those readers who haven't seen it, allow me to share a few highlights. Cool with you? Here's your opening paragraph:
When I spent a few years living in southern California, there were many instances where I had to explain to people that the Milwaukee area is not solely made up of farms and breweries. To the contrary, Milwaukee is a progressive, cosmopolitan city with lots to offer. […] What Milwaukee surprisingly lacks, however, is a thriving music scene.
Farms and breweries! Heh. Milwaukee sure is a lot more than just cheese and beer! But no "thriving music scene"? Really, David? Maybe it's time we had a talk. You see, I'm here to (gently) tell you that Milwaukee really does have a thriving music scene. Really!
Before we get into it, you should know that I'm not a mindless, "Everything local is kewl and awesome!" cheerleader. That kind of shit makes my skin crawl. But I worry when people make blanket statements about things like, say, the Milwaukee music scene, without the proper background. (Truth be told, David, it seems I've been responding to a lot of those blanket statements lately. You're not alone!) So what would make you say such a dismissive thing?
I'm sure many people will take issue with the above statement. After all, we have Summerfest, which to me is the best outdoor music festival in the country. But I'm not talking about the music of Summerfest, The Rave, The Pabst Theater, Turner Hall or any other venue that feature prominent, national acts. I am talking about the lack of eclectic music being put out by our own resident musicians. […] With that, I have to say that heavy metal and cover bands are not my cup of tea. I have nothing against them; I just can't get into them.
Wait—are you suggesting that Milwaukee is filled with nothing but heavy metal and cover bands? That seems strange to me. As a few Post commenters point out, there are literally six or seven Milwaukee acts that aren't heavy metal or cover bands. (Sarcasm!) Here are just a few: Sat. Nite Duets, Absolutely, Catacombz, Surgeons In Heat, Jaill, Kings Go Forth, Crappy Dracula, The Fatty Acids, Fahri, Call Me Lightning, and Northless. That's a pretty solid list, and there's not a single cover band to be found. (Northless is heavy metal, but not the butt-rock variety I'm guessing you're adverse to.) And that's just the tip of the "eclectic music" iceberg!
You continue:
I understand that lots of people like heavy metal. In addition, many musicians like the chunk of change that can be made by playing cover songs that many people know. But it's puzzling to me how so many local venues feature these same types of sounds, over and over. We live in a university town. […] They are usually the hubs where you can find cutting edge variations of music played by people that do it for the sheer passion and love of it.
I'm not sure what local venues you've been frequenting that feature "these same types of sounds, over and over," but I fear you're simply not getting out a lot. (I'm also not sure that Milwaukee is a "university town," but that's another blog.) Haven't you heard of places like Cactus Club or Club Garibaldi?
To Milwaukee's credit, my observations aren't completely true. I am aware that there are some interesting things going on musically. Venues like the Cactus Club, Club Garibaldi, and a few others constantly feature local and national acts that are doing some cool, unique things. They just never seem to get much press and are almost secrets for people that are "in the know."
Um, er, never mind. Looking past your bizarre "oh wait, my whole point isn't really true" 180-degree turn, I have to take exception with the notion that local acts don't "get much press." Again, are you familiar with this site? We have one of the most comprehensive calendars in town—one that features plenty of press on both national and local acts. Here are a few local-flavored show coming up in the next few weeks. Click on 'em and you'll even get a blurb about the show. (None of them are heavy metal.)
• Prof + KingHellBastard, March 1, Mad Planet
• Brief Candles + Scrimshaw, March 3, Cactus Club
• Group Of The Altos, March 10, Stonefly (Album release show! Don't miss this one, David!)
See, that wasn't so hard. (These blurbs run in print, too. They're hardly secrets for people "in the know.") And hey, if The A.V. Club isn't your bag, you can check out other sources for local shows and music. There's the Shepherd Express, for instance. It runs online and in print (you can even find it at Pick 'N Save!), and its main music man, Evan Rytlewski, is one of the best writers in town. If free alt-weeklies like the Shepherd give you the willies (and with folks like Boris and Doris constantly on the prowl, I wouldn't blame you), there's always the Journal Sentinel, which devotes a surprising amount of space to local music. OnMilwaukee.com is another good source. Hell, even ThirdCoast Digest gives it the old college try now and then. And if the whole "print" thing scares you off, there's WMSE and 88Nine Radio Milwaukee. Radio, David! Radio!
So maybe you haven't been looking in the right places. That's understandable. It's no wonder you haven't heard of great local bands like, say, The Wildbirds, The Celebrated Workingman, and The Ragadors.
A number of great local, original bands have kept Milwaukee form being a complete musical washout. Kudos to these bands that include The Wildbirds, The Celebrated Workingman, The Ragadors and others. Bands like these, along with underground hip-hop, demonstrate that there are pockets of interesting things going on. I just don't think that it's at the level it should be for a city of Milwaukee's size. More should be brought to the forefront. For God's sake kids, get up and start making a scene with the talent that I know is out there. […]
Hmm. Now you're confusing me, David. The bands you mention (and underground hip-hop!) are indeed great. Just last week, I saw The Celebrated Workingman perform an incredible opening set at The Promise Ring reunion show. Didn't you hear about that show? Were you there? If not, you really missed out.
And that's my point: Milwaukee has a strong music scene, and it's not that difficult to find. A few years ago, I wrote a piece similar to yours for the now-defunct Vital Source. I complained that Milwaukee's music scene chomped the big one, and that I couldn't care less. A fellow writer, DJ Hostettler, wrote an entertaining response and set me straight. (I enjoyed it so much I ripped off the title for this piece. Sorry, DJ!) Suffice it to say, I haven't looked back since. Maybe this letter will have the same effect on you. Cheers!
---
Oh, and one last thing: As it happens, today is my one-year anniversary as city editor for The A.V. Club in Milwaukee. (Thanks!) Even though I called Milwaukee home long before taking this job, it's incredible just how many new, exciting, and yes, eclectic bands I've discovered in the past year. Some of them even get press! Sure, there are disappointments from time to time, but the Milwaukee music scene has never failed to surprise, amaze, and inspire me. It's one of the most vibrant I've come across. I hope you stick around long enough to discover that for yourself.
Best,
Matt