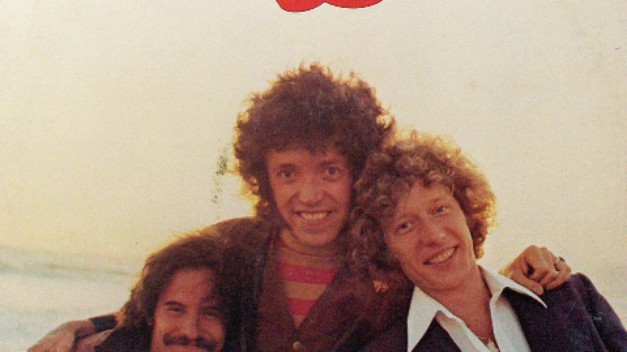 If the events of the past few years are to be believed, Milwaukee will always be known as the home of Arthur Fonzarelli, a real person who really lived here and really deserves his own terrifying, $80,000 bronze statue. But if you look past the throngs of tourists this masterpiece has attracted and dig a little deeper, you can find a treasure trove of forgotten books, albums, and other ephemera with actual ties to Milwaukee. In the interest of history—as well as getting a jump on spring cleaning—The A.V. Club rummages through its closets, attics, and hidden crawlspaces and unearths four obscure pop-culture relics from our city's past.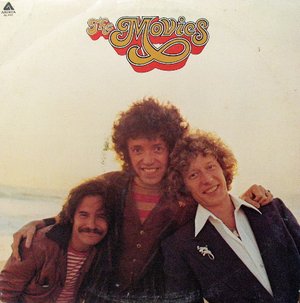 The Movies, The Movies—Vinyl album, 1976
Sometimes an album cover tells you everything you need to know about a band and its music. In the case of the terrifyingly obscure Milwaukee group The Movies, the cover of its self-titled LP lets you know you're in store for pleasant music made by pleasant young men, one of whom appears to be Caddyshack's Danny Noonan. Formed from the ashes of The Messengers (the first white group to be signed to Motown), The Movies relocated to L.A. and were soon picked up by Arista Records. According to the group's photographer, Robert "Mother" Cavallo, their debut album was well received, but an unknown incident at a show led to the band being blackballed by Arista president Clive Davis. Accordingly, information on The Movies is scarce; a dusty MySpace page  serves as one of the only cyber-reminders of the group's brief, pleasant existence.
Bob Uecker's Wacky World Of Sports—VHS tape, 1987
Milwaukee's own Mr. Baseball is many things: legendary broadcaster, film and television star, Usinger's Sausage enthusiast. Back in 1987—pre-Major League but post-Mr. Belvedere—Ueck decided to add yet another notch to his resume by hopping aboard the then-hot sports blooper bandwagon. The resulting 30-minute program finds a fit, tanned, and possibly drunk Uecker presiding over countless spills, chills, and slow motion crotch-shots. Clips from the first Wrestlemania are prominently featured, and a full five minutes are devoted to a guy who shoots golf balls with a rifle. Shameless mugging, goofy sound effects, and a puzzling sketch in which a rambling Uecker seems unaware he's being filmed round out the bill. It all adds up to some harmless fun, a gentle reminder of a time when blooper-king Marv Albert was an upstanding family man, and a 10-second clip of the San Diego Chicken dancing to "Wooly Bully" could send entire nations into hysterics.
Brewing: 20 Milwaukee Poets—Paperback book, 1972
Setting out to prove that the Midwest poetry scene "must not be overlooked in favor of our coastal limits," Brewing assembles some of the city's finest young poets (most of whom still call Milwaukee home to this day) and lets them loose for 150-odd pages. Featuring early works from Jeff Poniewaz, Jim Hazard, and UW-Milwaukee professor Susan Firer, the ensuing poems are sometimes lousy, sometimes great, and almost always products of their time. Milwaukee's former poet laureate Antler gets top billing, doing his best "Hippy Dippy Weatherman" routine as he waxes philosophical about "sundowns, sequoias, and solitude." Also included is the city's de facto dirty old man, Bob Watt, who contributes a short poem called "Heavy Crotch Pull" ("Did you ever try a heavy crotch pull? / Heavy crotch pull / world could be yours"), as well as a longer piece concerning his desire to construct a "giant masturbating machine" for UWM. Nearly 40 years later, Watt's dream remains tragically unfulfilled.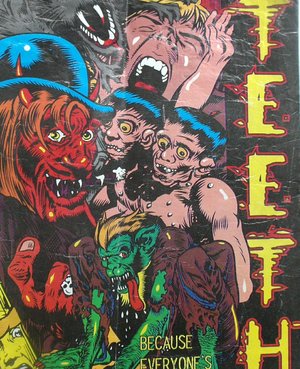 Teeth: The Official Magazine of Lollapalooza—Concert program, 1994
Flipping through the pages of the 1994 Lollapalooza program (called Teeth because "everyone's are different"), it's easy to focus on the things that made the festival—and the '90s—so embarrassing: the co-option of youth subculture, the empty sloganeering, Perry Farrell. But take a closer look and you'll find the one thing that made it great: the music. Held at the Marcus Amphitheater and the adjoining south end of the Summerfest grounds, the '94 Milwaukee Lolla featured a murderers' row of hot-shit alterna-bands: Smashing Pumpkins, Beastie Boys, The Breeders, The Flaming Lips, Nick Cave, A Tribe Called Quest. (It was also the year Nirvana was scheduled to headline, a gig that fell through after lead singer Kurt Cobain took some time off to pursue other interests.) The program itself provides full-page band bios, "mosh pit do's and don'ts," and a helpful map pointing out the festival's many merchandise tents. Notable that year was the inclusion of Milwaukee's The Frogs on the second stage. On-again, off-again freak-rockers and professional Pumpkins/Pearl Jam pals, the band still hawks live CDs of their Lolla performance to this day. Pick one up and relive the glory days when being friends with Billy Corgan actually meant something.