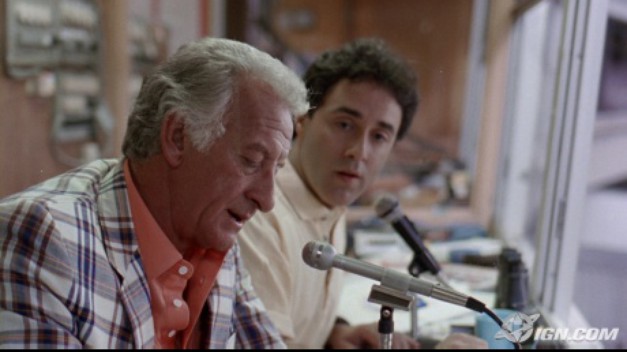 The term "Renaissance man" gets tossed around a lot these days, though few fit the bill quite as well as Milwaukee's Bob Uecker. Like the de facto Renaissance man himself, Leonardo da Vinci, Uecker is man of many talents and a master of countless crafts. Unlike the Italian genius, however, Uecker never painted The Last Supper or the Mona Lisa, though he was once nearly choked to death by wrestling superstar Andre the Giant.
In honor of Uecker's 40th year as the voice of your Milwaukee Brewers, as well as his 55th year in professional baseball, The A.V. Club looks back on a brilliant, multifaceted career that's seen a once lowly major league catcher slowly transform into a beloved national treasure. From Mr. Belvedere to Major League, published author to WrestleMania announcer, Uecker's many lives perfectly exemplify the ideals of the modern Renaissance man. Fire up the Usinger's and start slamming the Robinade!
1956-1967: The catcher in the wry
"One time, I got pulled over at 4 a.m. I was fined seventy-five dollars for being intoxicated, and four-hundred for being with the Phillies."
The career of Bob Uecker begins rather modestly. In 1956, Ueck signed with the Milwaukee Braves for $3,000, a sum he later claimed, "bothered my dad because he didn't have that kind of dough." It wasn't until 1962 that Uecker finally made his major league debut, squatting behind home plate as the team's catcher. During his six-year major league career, he would play for the Braves, the 1964 World Champion St. Louis Cardinals, the Philadelphia Phillies, and once more for the Braves after their move to Atlanta. A thoroughly unremarkable player in almost every way, Uecker left the majors with a lifetime batting average of .200. Years later, he would quip, "I set records that will never be equaled. In fact, I hope 90 percent of them don't even get printed."
1970-1985: Mr. Baseball
"Sporting goods companies pay me not to endorse their products."
Following his less than distinguished stint in the majors, Uecker entered the world of broadcasting. In 1971, he made his debut as the play-by-play radio announcer for the Milwaukee Brewers, a position he still holds to this day. His dry wit and dubious taste in checkered sports jackets also made him a favorite on the talk show circuit—Uecker would end up making nearly 100 appearances on Johnny Carson's Tonight Show. In 1982, he flexed his literary chops by releasing a pun-filled and truth-stretching autobiography, A Catcher In The Wry. Between his TV gigs and high literary aspirations, Uecker also found time to shill for Miller Lite, host Saturday Night Live, and star in 1985's direct-to-video gem, Bob Uecker's Wacky World of Sports.
1985-1998: George Owens, Harry Doyle, WrestleMania
"Heywood leads the league in most offensive categories, including nose hair. When this guy sneezes, he looks like a party favor."
More than any other period, the '80s represented Bob Uecker in his prime: bronzed, quick-witted, and slightly intoxicated. In 1985, Ueck would land the plum role of patriarch George Owens on TV's Mr. Belvedere. The sitcom not only bolstered Uecker's fame, but would go on to define him as anathema to snooty English butlers everywhere. A few years later, he would serve as guest announcer for both WrestleMania III and IV, calling matches and trading quips with such noted thespians as Gorilla Monsoon and Bobby "The Brain" Heenan. Hollywood came calling in 1989, when Uecker co-starred in the endlessly quotable Major League. Ever the trooper, he would also go on to reprise his role as announcer Harry Doyle in the film's two sequels: Major League II, and the little seen, Scott Bakula-helmed Major League III: Back to the Minors.
2000-Present: National treasure, stalker magnet
"Baseball hasn't forgotten me. I go to a lot of Old Timers games and I haven't lost a thing. I sit in the bullpen and let people throw things at me. Just like old times."
Uecker entered the 21st century in high style: by winning a bunch of awards and filing a restraining order. He was inducted into the Radio Hall of Fame in 2001, and received the Baseball Hall of Fame's Ford C. Frick Award in 2003. Three years later, the 71-year-old Uecker won a restraining order against an obsessed, middle-aged female fan—a woman whose not-at-all-crazy website goes to great lengths to explain just how not-crazy she really is. Undeterred by his crazed stalker, Uecker was inducted into the WWE Hall of Fame just last month. Not only is this latest honor completely awesome—you don't see Harry Caray in the WWE Hall of Fame, do you?—it represents the perfect topper to a strange, sometimes brilliant, sometimes ridiculous 55-year career. In your face, da Vinci.