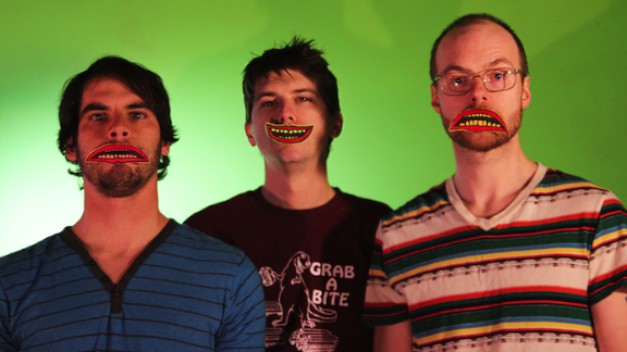 The ever-elusive "summer song" looms large in pop music, so much so that entire careers are built around it. Milwaukee's Jaill may not be the first group that comes to mind when thinking of sun, hot dogs, and babes by the pool, but the band's knack for shambling surf guitars and tossed-off hooks shouldn't be discounted come the hazy summer months. Jaill's second release for Sub Pop, Traps, gets plenty of mileage from those elements, but it shoots them through with just enough worry and weary resignation to land them a notch above the typical empty-calorie summer jams.
Similar to 2010's winning That's How We Burn—an album that found Jaill leaving its shaggy slacker-rock image behind—Traps is polished and buffed to a high shine. Opener "Waste A Lot Of Things" gets plenty of mileage from a loopy guitar riff that eventually gives way to sudden bursts of psychedelia that pop up throughout the rest of the album. "House With Haunting" is a moody, morning-after strut that laments a life filled with shitty apartments and shittier house guests, while "Madness" leaves an appropriately blissed-out impression with little more than an acoustic guitar and some errant egg shakers. Meanwhile, the terrific "Horrible Things (Make Pretty Songs)" serves as Traps' defining statement, a glum, resigned track of loss and regret ("No one to take care of / No one to take care of me."). It's the album's clear highlight, and it practically begs to be used as the requisite bittersweet closing-credits song on any and all basic-cable dramas. All throughout, singer Vinnie Kircher remains an affable and relatable frontman, whether he's bitching about getting older ("House With Haunting") or the fine line between "vanilla" and "rocky road" sex lives ("Everyone's A Bitch.")
Recorded in Kircher's Milwaukee basement throughout 2011, Traps bears all the hallmarks of a group of friends shooting the shit and piecing together their next mini-masterpiece, minus the usual lo-fi home-recording ticks. The album's laid-back vibe may be too laid-back at times—the meandering "Million Times" is Traps' sole misfire—but Jaill's nice-guy indie rock coupled with more than a tinge of despair gives the sad and jilted a batch of stealthy summer jams to call their own.