In the 1976 sci-fi classic Logan's Run, Earth's remaining survivors occupy a great domed city, sealed off from the ravaged, forgotten world beyond its walls. This future society lives only for pleasure, with the automated metropolis fulfilling its inhabitants' every want and need. The only caveat (and it's a doozy) is that once people turn 30, they're killed off in a public spectacle called "Carousel." It's a great movie, with plenty of action, adventure, and special effects that give the opening credits of Mr. Rogers' Neighborhood a run for their money.
While not exactly a dystopian wasteland, the Milwaukee winter landscape can certainly seem ravaged and forgotten. Enter Fun World, Brookfield's very own indoor pleasure dome. Like Logan's Run, Fun World represents a late-'70s/early-'80s version of entertainment that's both charming and a little shabby. Unlike the film, Fun World sits across from a Chuck E. Cheese and won't kill attendants over 30—though its teenaged staff will undoubtedly shoot off plenty of dirty looks. Never ones to shy away from adventure, The A.V. Club visited the suburban Xanadu in search of video games, blow-up furniture, and a decent game of laser tag.
The (weather) man, the myth, the Ferris wheel
Located just north of Bluemound Road at 620 N. Elizabeth Ct., Fun World is a delightful cross between a prepubescent Atlantic City casino and a junior high cafeteria that smells vaguely of Jack's Pizza and feet. More than 120 skill and arcade games grace its hallowed halls, not to mention a mini golf course, a laser tag arena, and enough filthy 10 year olds to stock a revival of Oliver! A huge indoor Ferris wheel dominates the entrance, constantly spinning at speeds that seem to hover at around 300 miles per hour. The noise is deafening, the food is adequate, and the admission—not to mention the sensory overload—is mercifully free.
As it happens, the co-owner of Fun World is none other than local weatherman John Malan. Truly a modern day renaissance man, Malan is rumored to use his kingdom as both a secret weather lair and refuge from fellow WTMJ-TV personalities Lance Allan and Carole Meekins. Numerous apocryphal Fun World stories abound, from the one about the "girl who jumped off the Ferris wheel" to the "kid who got H1N1 from the Dig Dug machine."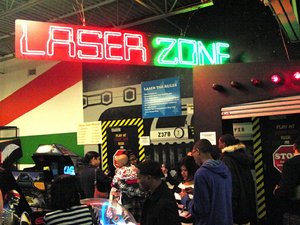 Highway to the Laser Zone
Not unlike postwar Vienna, Fun World is divided up into separate zones, each one more thrilling and goop-covered than the last. The "Soft-Play Zone"—a series of toddler-friendly tunnels and ball pits—is located near the entrance, while the "Mini Golf Zone" occupies the barren east end of the complex. Directly opposite is the dreaded "Party Zone." Purportedly a dedicated area for birthday parties, one glance inside the streamer-covered cove confirms it to be a lawless no-man's land where "adult supervision" is meaningless and feral children abound.
The main attraction, of course, is the "Arcade Zone." Ignoring the occasional DDR or Big Buck Huntermachine, Fun World reverts back to an alternate universe where video game production halted around 1993. Games like NARC, Lethal Enforcers, Area 51, and Terminator 2 Pinball line the floor, as well as that one where you help Aerosmith defeat a bunch of terrorists, Revolution X. Four ticket-spouting Skee-Ball machines lurk near the back of the room, each one just small enough to guarantee anyone over 3 feet tall a weeklong backache.
Not to be outdone, the "Laser Zone" gives visitors the chance to battle both friends and foes, all while contending with black lights, smoke machines, and music that sounds suspiciously like the Mortal Kombat soundtrack. Players are given hasty, barely audible instructions before being set loose in the futuristic gladiator pit, blasting away at each other for a full 20 minutes. The arena is a large, carpeted room that's one part warehouse rave, one part beat-up Halloween haunted house. All kidding aside, Fun World is quite the bargain and surprisingly clean: Laser tag is a mere $5.49 plus tax, arcade games require only one token, and a reassuring sign near the entrance reads, "No bare feet. White socks available at counter."
Redemption
The ominously named "Redemption Zone" is the last stop on the Fun World circuit, a place to cash in $40 worth of Skee-Ball tickets for crap that costs a nickel. Just like the future, most everything available is inflatable: inflatable Batmans, inflatable La-Z-Boys, inflatable red, white, and blue machine guns. And as you wait patiently behind a 12 year old with three grocery bags filled with tickets, you'll finally realize that Fun World is perhaps less utopian than the paradise of Logan's Run, and more likely the ridiculous, guilty pleasure-chest of Bio-Dome.